Finding the right WordPress theme for a photography website can be a challenge. You need a functional theme that not only looks good on its own but also highlights your images. Today's best themes, however, can do all that and more. If you're looking for more information on how to choose the best WordPress theme for photography, make sure to check out this guide with links to the top themes!
What Makes a Good WordPress Theme?
The right WordPress theme for you depends on your needs, but there are some common points to any good WordPress setup.
One of the first things to consider is versatility. While WordPress itself is very versatile, some themes prevent you from doing much more than adding your own text and images. Instead, they confine you to a particular look and feel and often make it more challenging to improve down the road. A good WordPress theme should instead provide both a great foundation to build from and various options to customize the feel of the finished site.
Performance is another critical characteristic of a good WordPress theme. While this can be tough to gauge before your site is set up, choosing a theme from a reputable source can go a long way to ensuring good performance. This isn't only important because of the impact on the user's experience and because it can even determine whether users see your website at all! Surprisingly, Google considers the performance of your site when determining where your page ranks in search results. A slow, non-performant website can hurt your SEO and is much tougher to fix, as the theme is often deeply integrated into all aspects of your site.
Functionality is the final key aspect of a theme to consider. Again, the functionality may look different depending on what you want to do with the site, but I'd suggest you consider your future uses, along with just what you want your site to do today. While you may just need a portfolio and slideshow page, you may want to sell images in the future, create proofing galleries for clients, or implement other complex plugins. Choosing a site that can work with things like eCommerce plugins can make the difference between adding in some future functions with a click and redesigning your site from the ground up when you switch themes. It has to highlight your photography. As a photographer, your WordPress site has to put your photos front and center. Without looking good and making your photos look good, the site will not be as useful to you. While many WordPress themes support images, not all of them do it in a way that is stylish and design-forward. Additionally, many themes won't support the variety of display formats you'll want, especially if you're looking to sell images or provide proofing galleries to your clients.
Understanding the Language
If you're new to web design or WordPress, there might be several terms in the theme descriptions that you've not heard of. Fortunately, they're pretty simple to pick up, as well as important to understand what differentiates the following themes, and with a bit of effort, you'll be speaking like a web designer in no time.
The first is one you've already seen in this article: SEO. Search engine optimization, or SEO, determines how high your page shows up in Google results. Being first for the relevant searches is a huge factor in determining your site's traffic and visitors and directly translates into how many clients and bookings your business could be getting. To think of why this is important, just remember how often you check out the second or third page of a Google search – if you're like most people, it's very rare.
If a theme is described as responsive, that just means it's capable of adjusting when the viewer's display changes, like when someone turns their phone sideways. This can be tricky to set up if you're new to web design, so having it built into a theme can be a big help.
One last thing to keep in mind is the difference between a plugin and a theme. A theme can bundle plugins with it but is best thought of as a "look" for your website. One single download or purchase of a theme can let you give your website multiple different looks. These different looks can be a change between something as small as a white or dark version of the page or an entirely different page style, like something modern, feminine, or minimalistic. In contrast to a theme, a plugin is typically more focused on the site's functionality, enabling something like eCommerce or SEO analysis.
The 10 Best WordPress Themes for Photographers
The collection of themes included in this article were picked based on a few factors:
The ease of use for photographers
The design possibilities
The speed of a site running the themes
We hope you will visit each theme and browser their demos to decide which is best for your photography site.
1. Imagely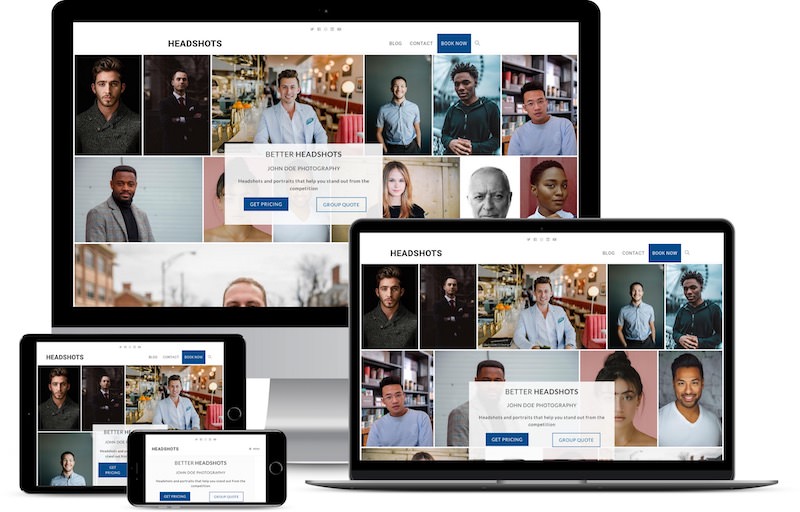 One of the best themes for photographers is Imagely. Imagely is a single package that offers everything you'd need to design the perfect photography website, thanks to its huge variety of gorgeous, SEO-optimized designs. Whatever your desired website style, Imagely probably offers a great-looking theme in the package, thanks to the 80+ included designs. Those 80+ can be further tweaked and optimized for your uses, thanks to the drag and drop builder, as well as the hundreds of customization options. You can customize everything from the site layout down to the fonts, colors, and sizes, all without having to touch any code.
One major perk to Imagely is how it handles mobile device users. While some websites will just shrink your site down to display on the smaller screens, Imagely supports a separate look just for mobile. This can make a huge difference for usability and is often missing on older WordPress themes. Mobile can be a huge portion of your traffic, and having a poorly performing site can cost you visitors.
Imagely is also a lot more than just a gallery. While you can build any type of page you want with the block editor, Imagely supports blogs, lightboxes, and more, right from install. Imagely also provides NextGEN Gallery, the most popular photo gallery plugin for WordPress, to expand the site's functionality.
NextGEN Gallery enables dozens of valuable features, like automated print fulfillment and eCommerce. If you're looking to make money from your photography, NextGEN Gallery can help you quickly turn your photos into cash, enabling you to sell digital downloads, prints, and more. The themes and plugin were built from the ground up to work together so that you can expect deep integration between them – that means no compatibility worries here. Instead, you can quickly set up, upload, and start selling, all with just one purchase.
2. Kadence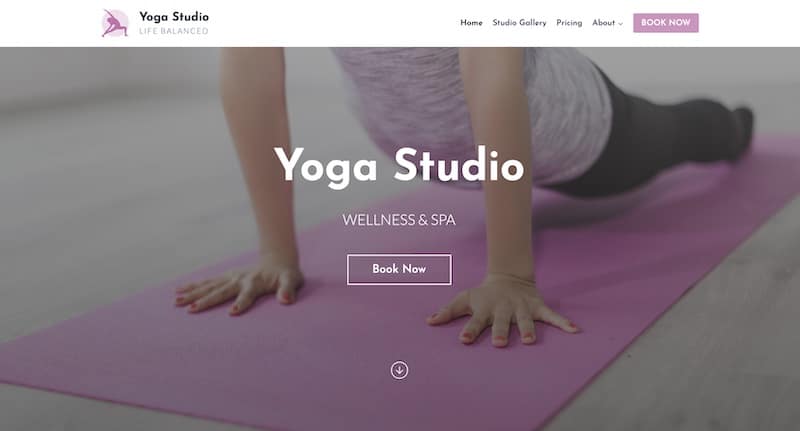 If you're a little more confident in your web design abilities, you can consider checking out Kadence. Kadence features a deep level of customization, enabling you to tweak and optimize every page to your preferences. Additionally, it supports a wide range of plugins, like WooCommerce, which can help you build an effective eCommerce setup on your site.
Kadence's two major features are its performance focus, thanks to modern design choices like no reliance on Javascript, and its emphasis on accessibility. Kadence was built to meet the WCAG 2.0 standards, a major industry standard for accessibility. It also supports keyboard navigation and a number of other features intended to make browsing your website work for everyone.
Kadence also gives you a variety of powerful editing options. The typography and layout settings make it easy to create the exact website you're envisioning. If you're instead just looking to get a site set up quickly, Kadence also offers a wide variety of starter themes, making it easy to drop in your text and images.
3. Astra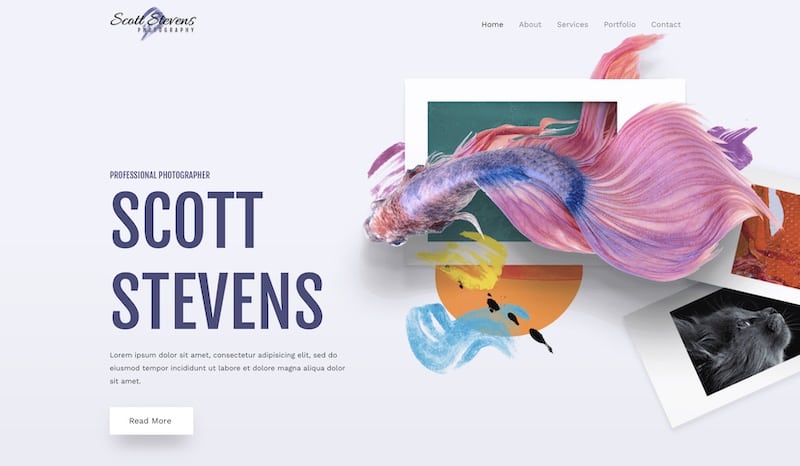 Another major theme for WordPress is Astra. Astra describes itself as "the most popular theme of all time", and with the millions of sites running it, that's probably true. Like Kadence, Astra is eminently customizable, letting you tweak every aspect of the site quickly. Colors, typography, layout, and the header design are all adjustable, while you can tweak major layout elements with WordPress's customizer, all without touching any code.
Astra also offers close integration with major plugins like WooCommerce and Yoast, an SEO plugin. Just like with Kadence, Astra is focused on performance. On the technical side, it avoids jQuery and weighs in at only 50KB, a huge size improvement over some other themes.
All this focus on speed doesn't mean the design side is left out, however. Astra features an extensive library of importable site designs, letting you quickly grab something to use as a starting point.
4. Nomade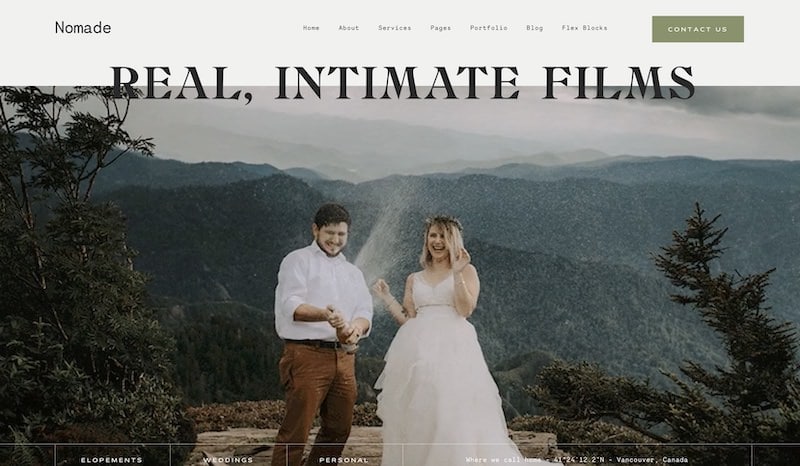 Nomade, from Flothemes, offers an elegant and bold theme for photographers and videographers. As a theme designed specifically for visual content creators, it's clear that the designers put the design aesthetic at the forefront – the theme is very visually appealing. The theme offers "FlexBlocks", a bit of technology-specific to Flothemes that lets you quickly and easily tweak the preexisting layouts to accommodate your individual needs. The Nomade theme features 90+ FlexBlocks, letting you quickly adjust the 17-page templates to better match your individual needs, in addition to the base of 30+ WP Blocks.
Flothemes also includes one year of free support from their team. That level of support can be a big help as a new person working with WordPress. That tech support period can be extended for another year for a reasonable fee, too. Along with support, the theme itself comes with free updates for the lifespan of the theme. Together, those add ons represent a good value to users who may not be 100% confident in their ability to deploy a theme without any help.
From the examples shown on their website, it's clear that this theme is very customizable. Each customer example looks unique from one another while still being built with the same fundamental building blocks. The large header picture is particularly appealing for wedding and portrait photographers, as it's easy to highlight a great individual shot while still leading into all the additional information you want to share.
5. Page Builder Framework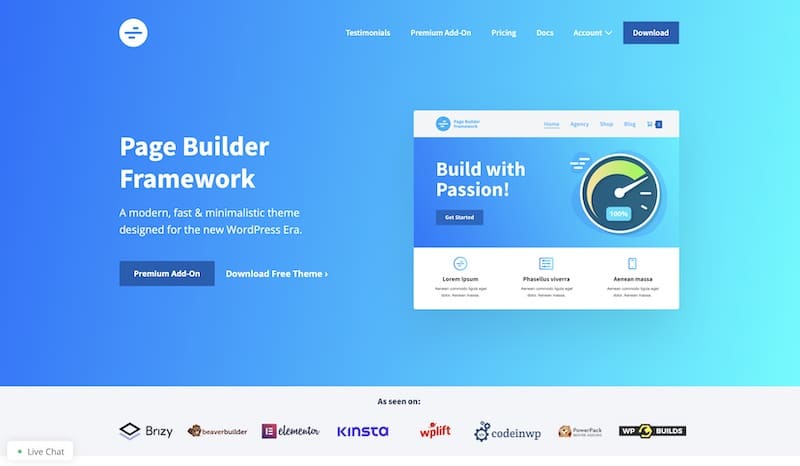 On the other end of the spectrum from the more "designer", aesthetically focused themes, the Page Builder Framework is a very lightweight and fast theme, intended for use with page builders like Beaver Builder and Visual Composer. As a theme designed specifically for page builders, the Page Builder Framework was written from the ground up to be fast, SEO optimized, minimalistic, and customizable. If you're comfortable creating something on your own, you can use this framework to create the design of your dreams, all without having to touch code, as you can use the WordPress customizer.
Many photographers may already have some level of comfort with design, graphics, and aesthetics – if that's you, consider just creating your own theme. WordPress makes it easy to get started with design, and as a bonus, you'll have greater control over every aspect of your site compared to packaged themes. This theme can also be a quick and easy way to set up a basic website, like a blog, storefront, or portfolio website, making this perfect for photographers who are either just getting started or just expanding their business into a new area.
6. Neve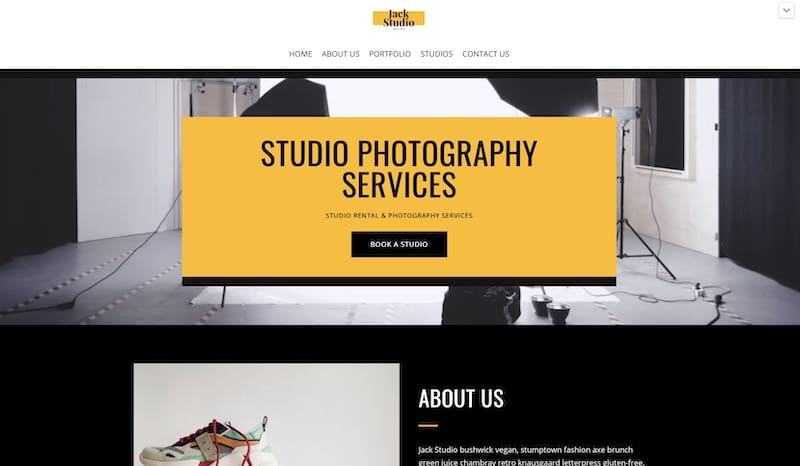 Neve is another theme focused on being very fast and very customizable. The default layout is very optimized while still supporting a large header image, making it great for photographers looking to highlight a single important image on the homepage, in addition to the smaller in-line pictures. The design is minimalistic, focusing on clear text, readability, and integration with popular page builders. Neve also has a huge install base, with over 200,000+ active installations.
Whether you're looking to make a personal portfolio or expand into e-commerce to sell your prints, Neve can help you create a very responsive page easily. With a greater emphasis on text than some of the other themes, this can also be a great theme for wedding photographers or business to business oriented photographers, letting you easily explain your services and available packages more easily than a theme that prioritizes photos.
7. Hello Elementor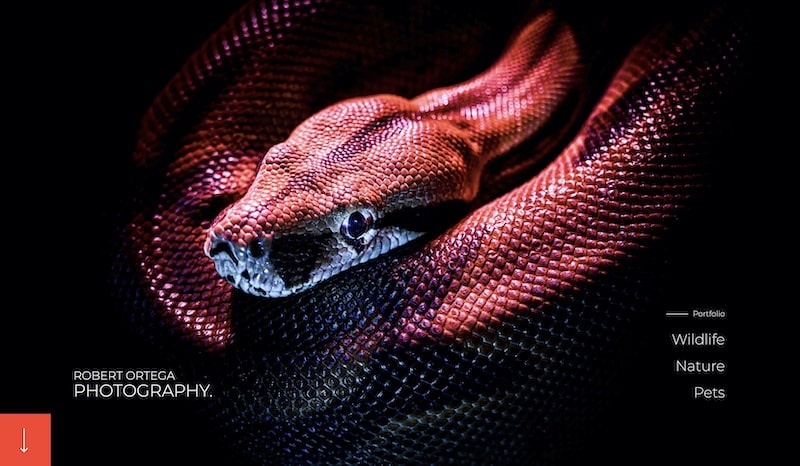 Elementor is the #1 web creation platform for WordPress, with a design tool that lets you easily drag and drop elements, creating a stylish, flawless page, all without touching any code. The Hello theme is a vanilla, lightweight theme meant to give you a great starting point when working with Elementor, and as such, is a blank canvas for web designers. Elementor Pro includes a further 300+ pro templates, but even the free version lets you access 40+ basic widgets to tweak the design.
If you're looking to integrate eCommerce support into your website for selling photos and prints, consider upgrading to their pro plan, which brings support for visual forms and WooCommerce and Envira Gallery. These tools will let you quickly turn your portfolio website into a powerful sales tool. That upgrade to Pro also bundles in post and portfolio widgets, as well as price tables, all for a reasonable yearly subscription if you're just building a single website.
8. Beaver Builder Theme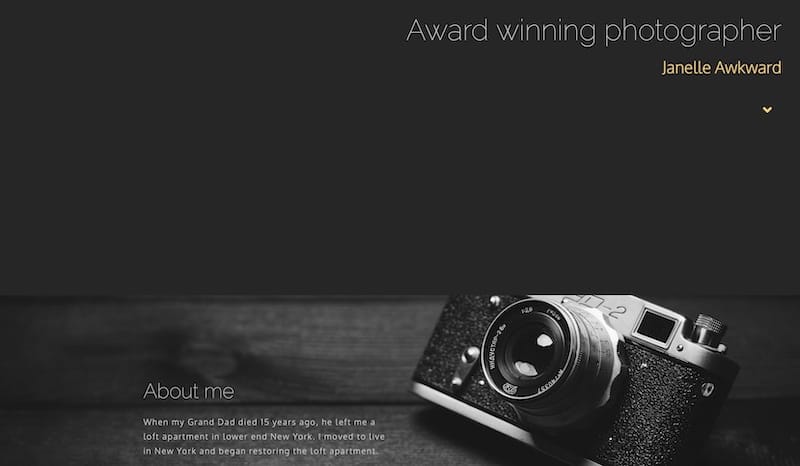 Beaver Builder is another great tool for building pages, offering the tools and resources to quickly work with your WordPress site in a more efficient way than the default WordPress tools. Beaver Builder comes with its own Beaver Builder theme, a versatile and adaptive framework for any WordPress project. This theme offers a flexible, easy-to-use interface for photographers, which doesn't require you to touch code. It's still flexible and developer-friendly, letting you extend and make changes, but it is based on the popular Bootstrap framework. As an additional value to photographers who may shoot various subjects and want a personal and professional site or a wedding and portrait-oriented pair of websites, the theme can be used with unlimited sites.
The theme itself features everything you'd need, including support for free fonts from Google Fonts, WooCommerce, and Envira Gallery support to let you easily integrate a storefront and customizable headers and footers.
9. Blocksy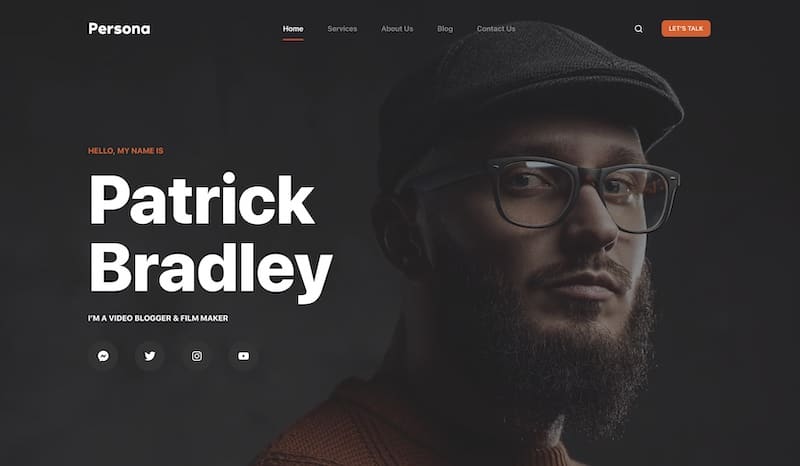 Blocksy is a lightweight, basic theme designed for use with other page builders. As such, it offers a ton of versatility and extensibility, along with support for the latest web technologies. If you're a photographer who's already comfortable with doing a bit of design work, Blocksy can be a great way to build a site that is truly tailored to you. It offers all the essentials, including WooCommerce and SEO optimization. It can be a great way to set up a basic site quickly while still having the option to expand and refine it later on.
10. Twenty-Twenty One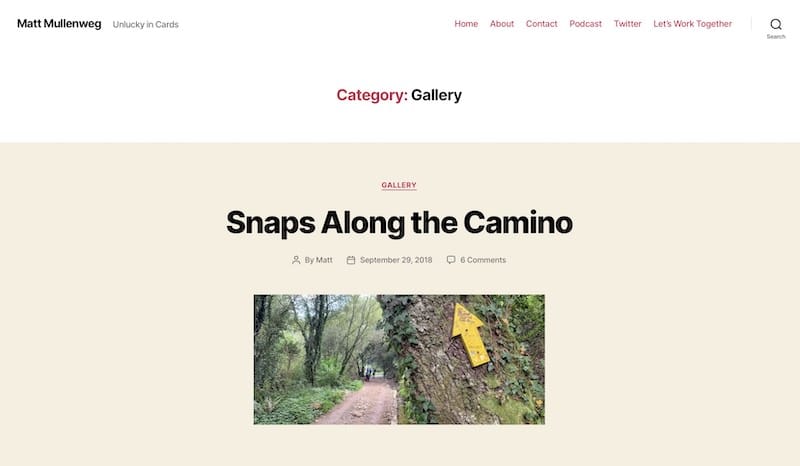 One of the latest trends in web design is the use of blocks, and the Twenty Twenty-One theme by WordPress puts blocks front and center. Like the default theme for WordPress 5.6, Twenty Twenty-One is a great option for beginners who want to quickly customize a clean theme for basic purposes. The theme lets you spotlight a number of different images across the page while still having a very clean, pastel-based background.
Conclusion
Regardless of which theme you choose, it's possible to create a beautiful and functional website. Just remember that if you're choosing a theme, make sure to look for one that's versatile, functional, and performant.
For photographers looking to build a powerful and dynamic website with photo-centric themes, consider Imagely. The tight integration with NextGEN Gallery lets you quickly get pro-level tools deployed across your site while ensuring you don't have to spend time troubleshooting them.
If you're a bit more adventurous, you can choose to custom tailor a site with Kadence or Astra, both incredibly powerful WordPress themes.