Unless you have never tried to optimize your website performance, you know that image optimization is one of the most crucial performance actions. The question is, do you also know how to compress your images at their best to balance performance and quality? In fact, there's a sweet spot allowing you to make your photos lighter and faster while keeping their best quality. Guess what?
Imagify found this sweet spot for you, thanks to Smart Compression. That's right: no need to think about the best compression level anymore! Imagify will do the entire image optimization job for you – balancing quality and performance. Making image optimization as easy as possible is our North Star, and this new release will prove it again.
Keep reading and learn more about what Smart Compression entails, what happens to your optimized images, and why the new optimization mode is a turning point in saving time.
If you prefer, you can first watch our video!
What's Smart Compression and How it Works
Until we released the Smart Compression, Imagify offered three compression levels according to different needs: Normal, Aggressive, and Ultra. Normal was the lossless compression level that allowed a small optimization and kept the same image quality. On the other hand, the Ultra and the Aggressive levels were way more effective – sometimes even too much. As a result, it could be challenging to compress images without any degradation at all.
We wanted to offer the most effective solution and make the image optimization process a no-brainer. That's why we came up with the Smart Compression mode.
Here's what the image optimization process looks like now.
Imagify first compresses the image at its maximum and then checks the quality, comparing the pixel degradation between the original and the optimized image.
If the two images are not similar enough to pass our test, Imagify will slowly scale the compression level until it finds the perfect balance between compression and quality.
This is what we mean by offering the best compression ratio quality: it's about ensuring a good compression level with an optimal quality all the time.
Smart Compression does precisely this: it automatically optimizes your images at their best. So you don't need to decide which compression level is right for your needs – Imagify takes care of everything. Plus, you'll always have the option to go back to the Lossless Compression (Normal mode), as long as there's a backup for your images. You won't need it – we just wanted to be extremely cautious.
What's New in the App and the Plugin
As you can imagine, there's something new in the app and the plugin.
You'll find the two compression levels in the new app interface. The Smart Compression is the default option: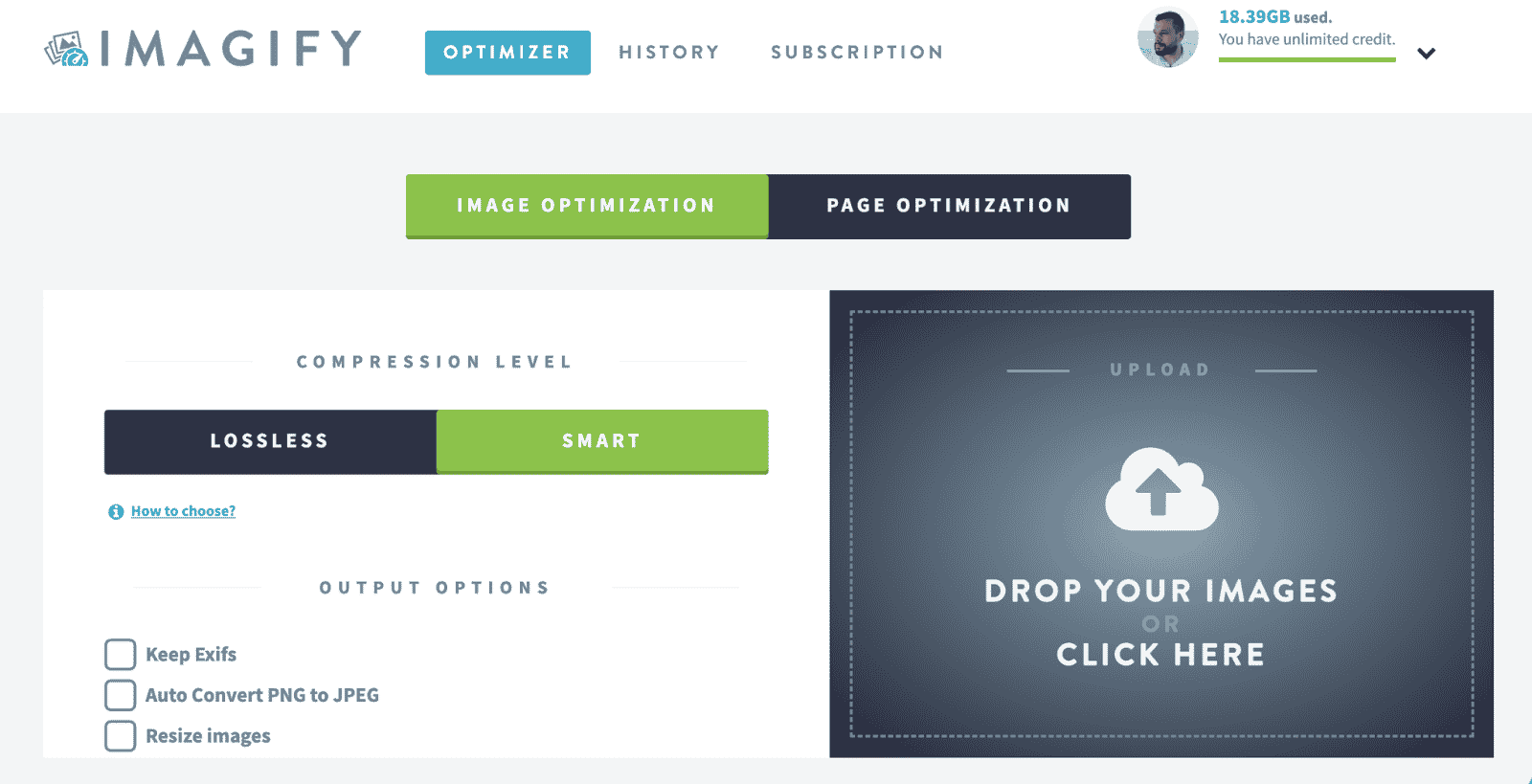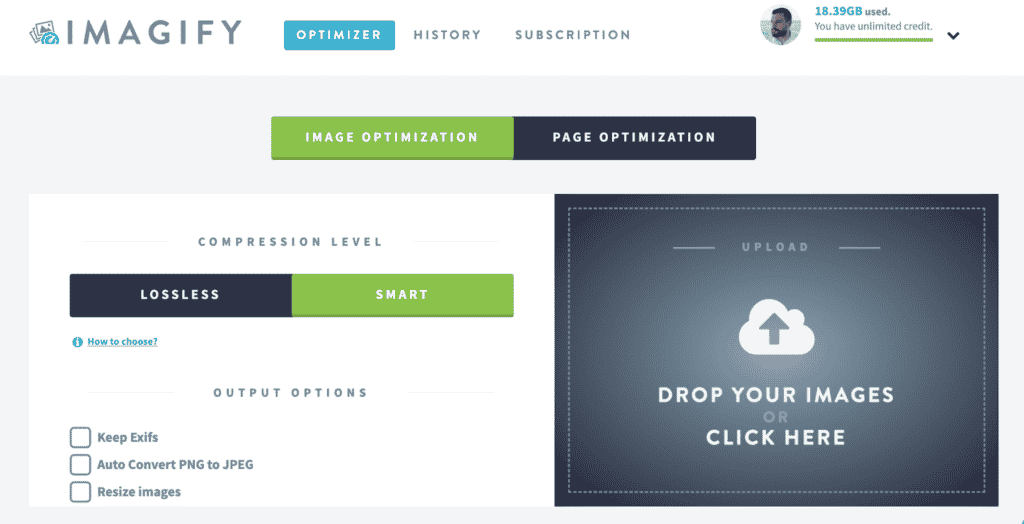 There's something new in the plugin, too.
Before introducing Smart Compression, you would find the three compression levels in the Media library. Plus, the option to restore the original image: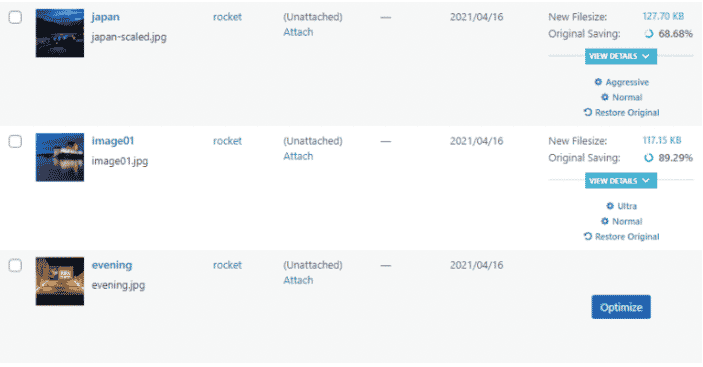 Now you'll find the Smart Compression level as the default one to compress your images. Plus, the option to re-optimize images with Lossless level: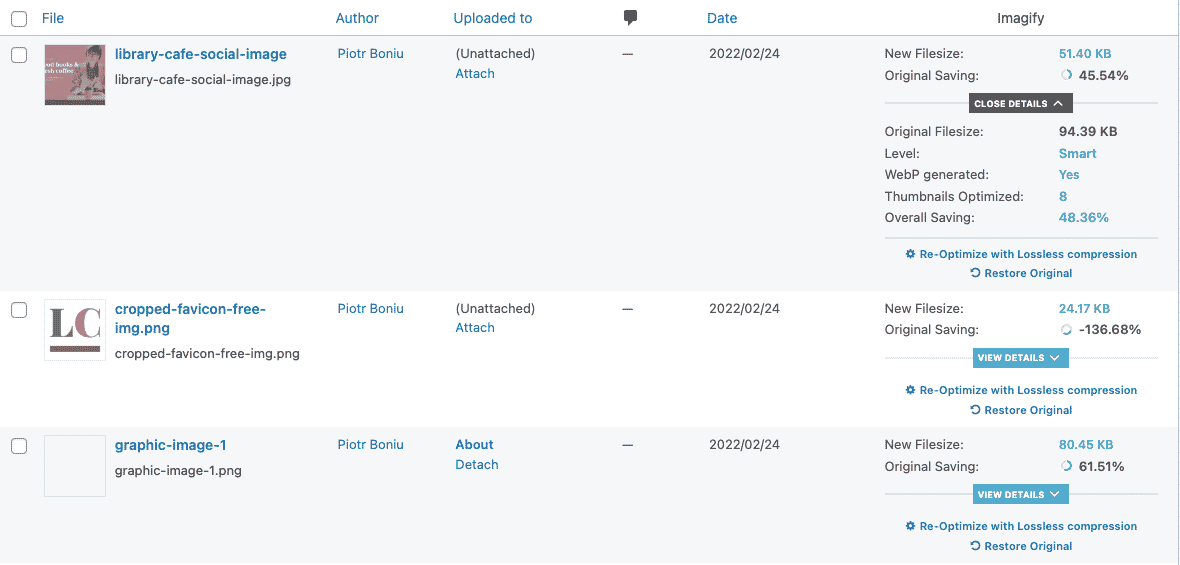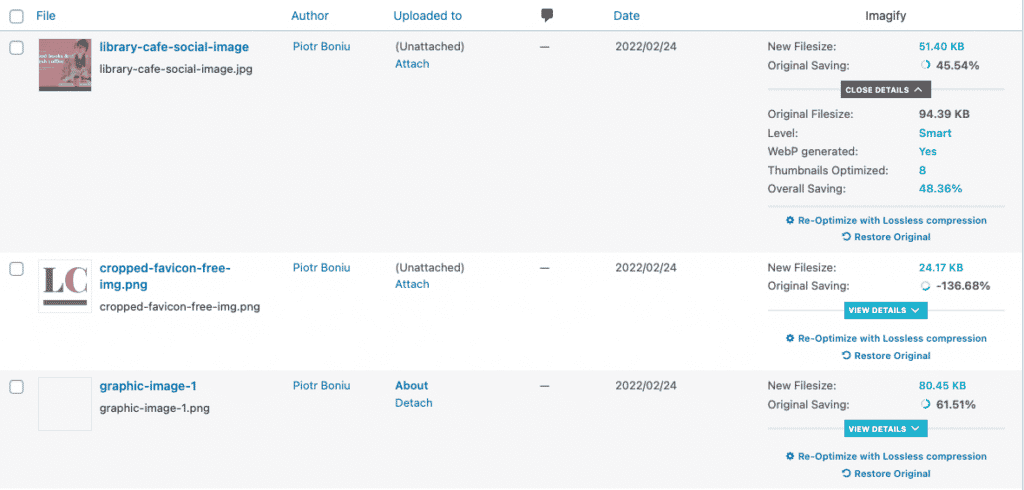 And there's more.
The General Settings overview doesn't include the same options you previously had.
You can see the old page below: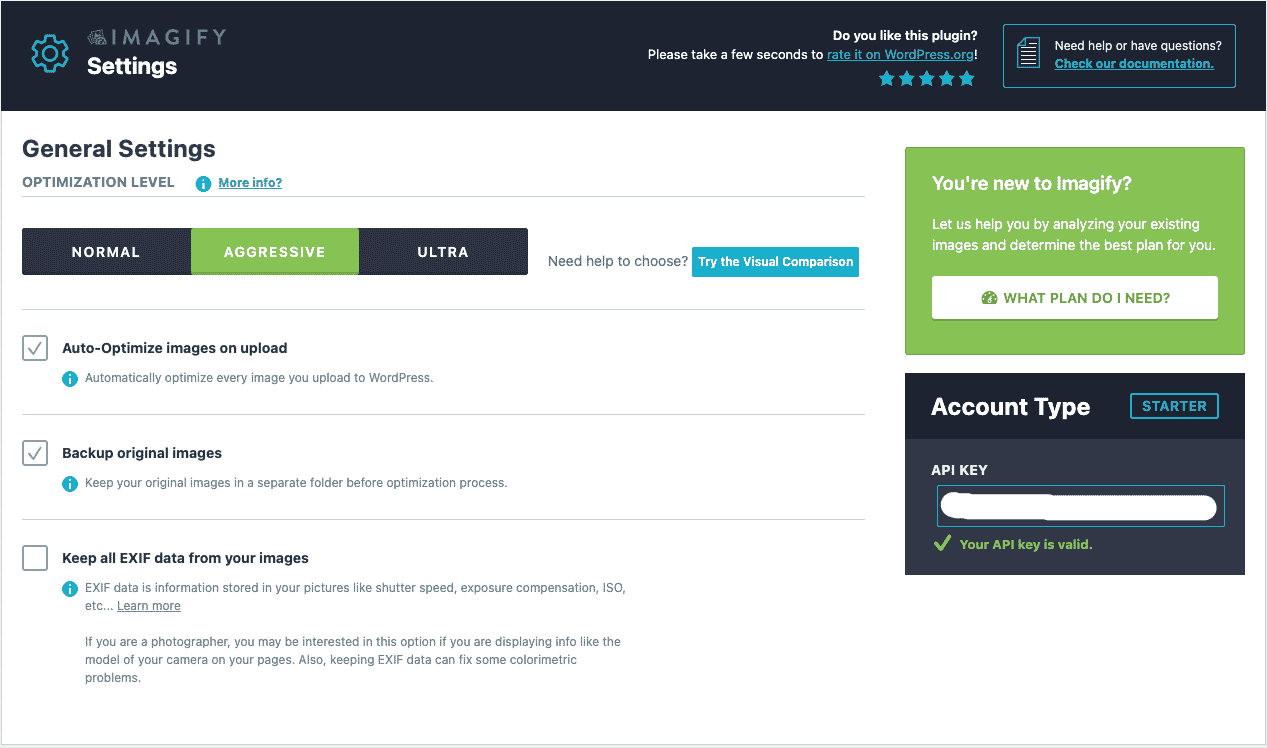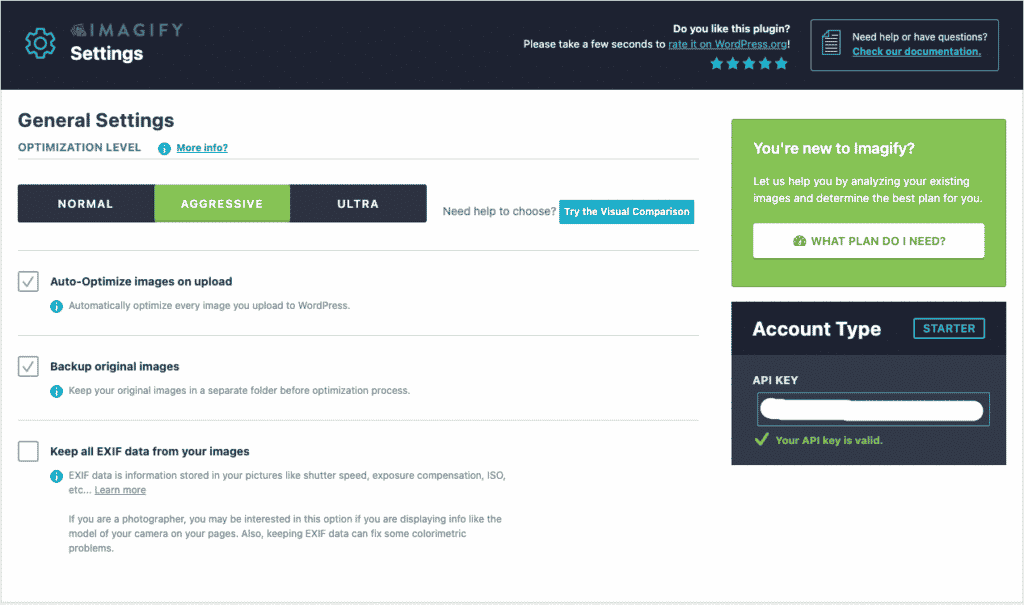 Now, you'll find only two options to auto-optimize images on upload and backup the original photos: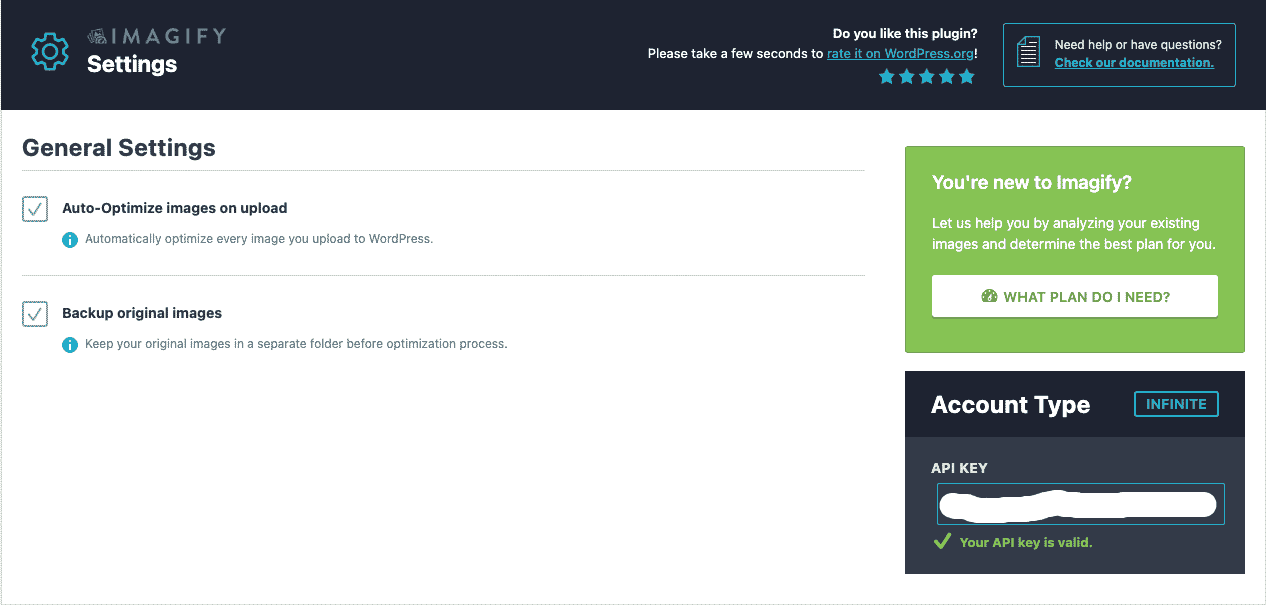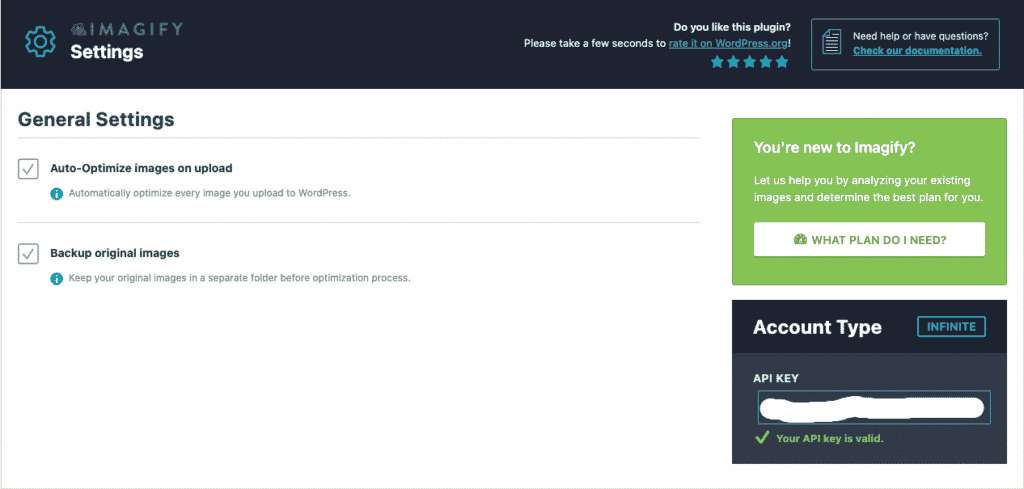 The other two options are not available anymore. The reason is simple.
First off, you don't need to choose any compression level anymore, and that's why the Optimization level is gone. The Exif option is also no longer available because Imagify will store the Exif data by default.
What About The Images Already Optimized?
If you're already an Imagify user, you may wonder what happens to the images you already optimized.
In the media library, you'll see new names under each image:
The Normal mode will be named Lossless compression.
The Ultra and Aggressive levels will be named Smart Compression.
Important note: no matter which compression name you find close to your images. If you want to take advantage of the Smart compression, you need to launch the Bulk optimization again. And we highly recommend it!
You don't want to miss out on a great optimization improvement, do you? Here's what you can expect according to your previous settings.
If you have always used the Normal compression level, you'll immediately achieve more effective compression and better performance. You'll be amazed by the saving provided by Smart Compression.
If you have always opted for the Aggressive mode, the Smart compression will ensure additional compression and saving.
If you used to choose the Ultra level, on average, you'd get a similar compression result as in the past. It means that sometimes you'll get a higher compression, and other times you'll get a slightly lower one. You may notice that your images are slightly bigger – that's because Imagify will improve their quality. Don't worry about the performance of your photos – it won't change at all. Instead, you'll get a better image quality.
This is a crucial point about Smart compression: we found the best solution to balance compression and quality – always keeping a close eye on performance.
What Smart Compression Means for You
Think about it: you know you should optimize your images – that's a key step to improving your site loading time and performance score. So, you choose Imagify. You install and activate the plugin, and that's it.
You don't need to consider the correct settings according to your needs. You don't have to spend time researching and testing different compression levels to ensure you're choosing the best option. You don't have to wonder if you're wasting any compression potential that could make your images lighter and your site faster.
You'll save all that time (and effort).
Imagify will take care of everything, and you'll get your images optimized at their best without doing anything. It's really as simple as that.
Try Smart Compression Right Away
Want to give it a try and see how easy and powerful Smart Compression is? Start optimizing your images for free!
If you have plenty of images, you can choose the Infinite Plan (unlimited photos for $9.99 per month) or the Growth Plan (500 MB for $4.99 per month). No matter what plan you choose: you can install Imagify on an unlimited number of websites.
Try Smart Compression today, and let us know what you think in the comments!