Ready for the news many of you have been waiting for? Drum rolls, please! Imagify 2.1 introduces Asynchronous Bulk Optimization. That's right. The need of many Imagify users comes true and makes our image optimizer easier than ever!
Over the last months, we received many requests about making the bulk optimization process smoother thanks to the asynchronous method, and here we are.
After releasing Smart Compression, which offers the best solution to balance compression and image quality, Imagify comes with a simpler way to optimize images. The need to keep a tab open while compressing images wasn't efficient – and we value easiness above everything else. You can now start the compression optimization and forget about it until it's done. Yes: you don't need to stay on the same page for a long time until the plugin compresses all your images. Imagify will take care of your image optimization in the background. Simple as that!
Watch our video to learn everything on Imagify 2.1, or keep reading the article:
What's New with Async Bulk Optimization
What will change for you when using Imagify? Nothing. Your experience with the plugin will stay the same. The only difference is that now you can enable Bulk Optimization and leave the page without stopping the compression optimization process.
You may wonder what Bulk Optimization is in the first place. Imagine you have hundreds or thousands of images in your Media Library. Then Imagify's Bulk Optimizer comes in handy because it will optimize your images all at once. You only need to tick the Media Library box and click on the Imagif'em all button, as you can see in the screenshot below: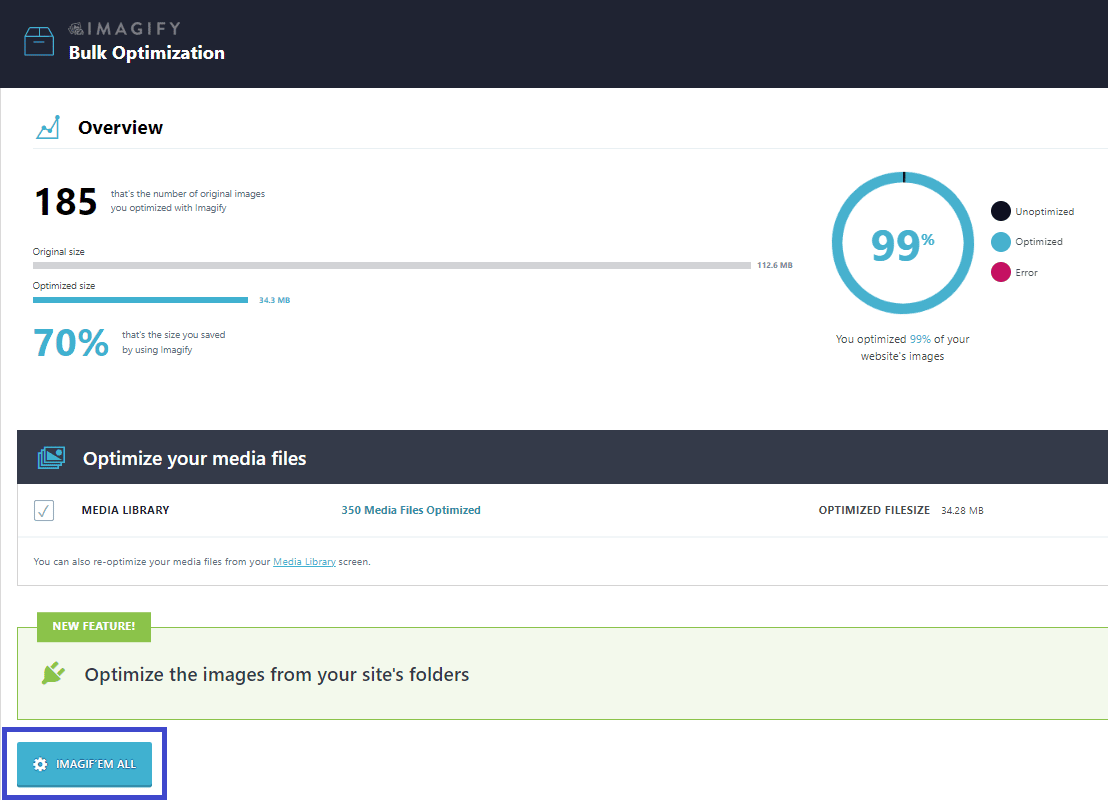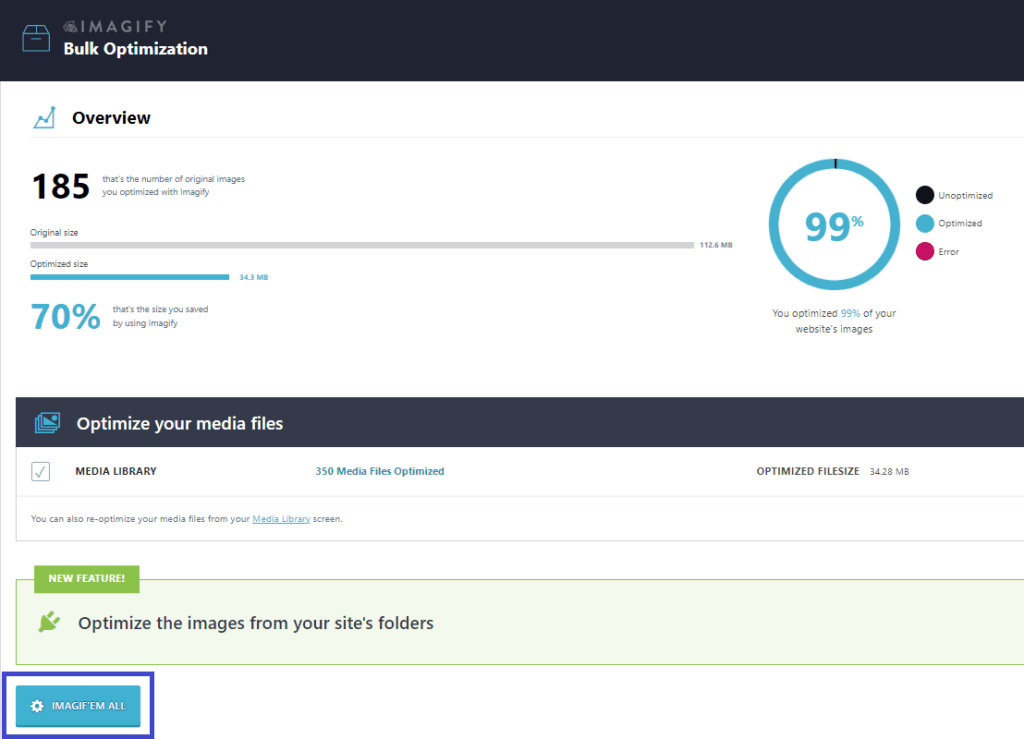 Let's say you enable Bulk Optimization and close your page. Once you're back, you'll get a notice according to what has happened in the meantime.
If you return and the compression process is still ongoing, you'll get a notice in the WordPress dashboard and see the percentage of the progress in the Bulk Optimization tab.

On the other hand, if you come back and the Bulk Optimization is finished, you'll get a notification:


What if you're not on the Bulk Optimization page? In that case, you'll get a general notification on the WordPress admin page, as shown in the screenshot above. You'll be redirected to the Bulk Optimization section by clicking on Check your stats. Remember that you'll get the notice only once, according to the page you're on. Moreover, the message will be displayed only once, and removed once it's viewed.

Re-introducing Lossless Compression
Imagify 2.1 comes with other news that will make some users happy. You can now select the Lossless Compression mode by default again. This option allows you to focus more on the quality of your images rather than performance. You'll keep the same quality and optimize your pictures just a little. For instance, if you're a photographer and don't want your pixels to look different in the optimized image compared with the original, Lossless Compression is the right choice.
Here's what you'll find in the General Settings tab. You only need to flag Lossless compression, and it will be done.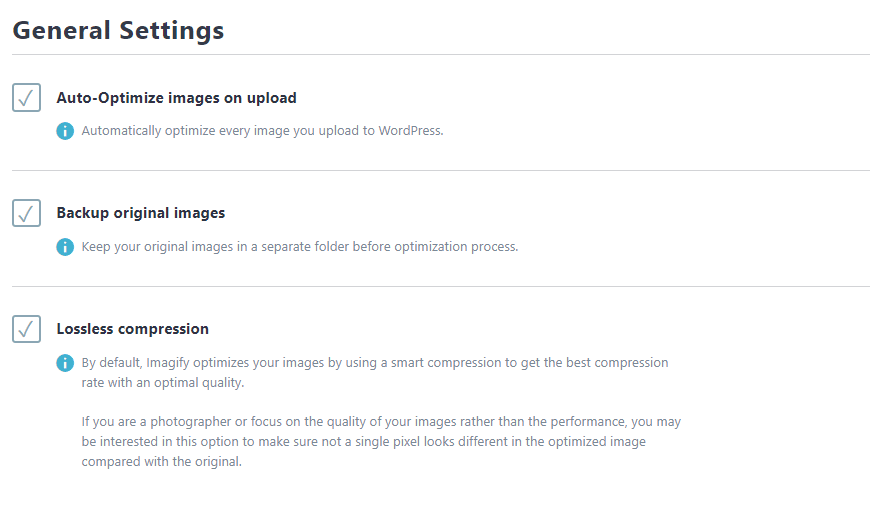 If you want to launch the Bulk Optimization, you'll also find the Lossless compression in the dropdown menu.

Wrapping up
Whether you asked for the Async Bulk Optimization or not, the opportunity to compress your images asynchronously is a big step toward smoother and simpler image optimization. No matter if you have the page open or if you're even online. Imagify will compress all your images, and you'll get them lighter and faster once the compression process is over.
If you've just landed on our blog for the first time, here are the two ways to optimize your images with Imagify:
You can optimize images when uploading them to WordPress.

You can take advantage of the Bulk optimization and optimize them in Imagify's media library.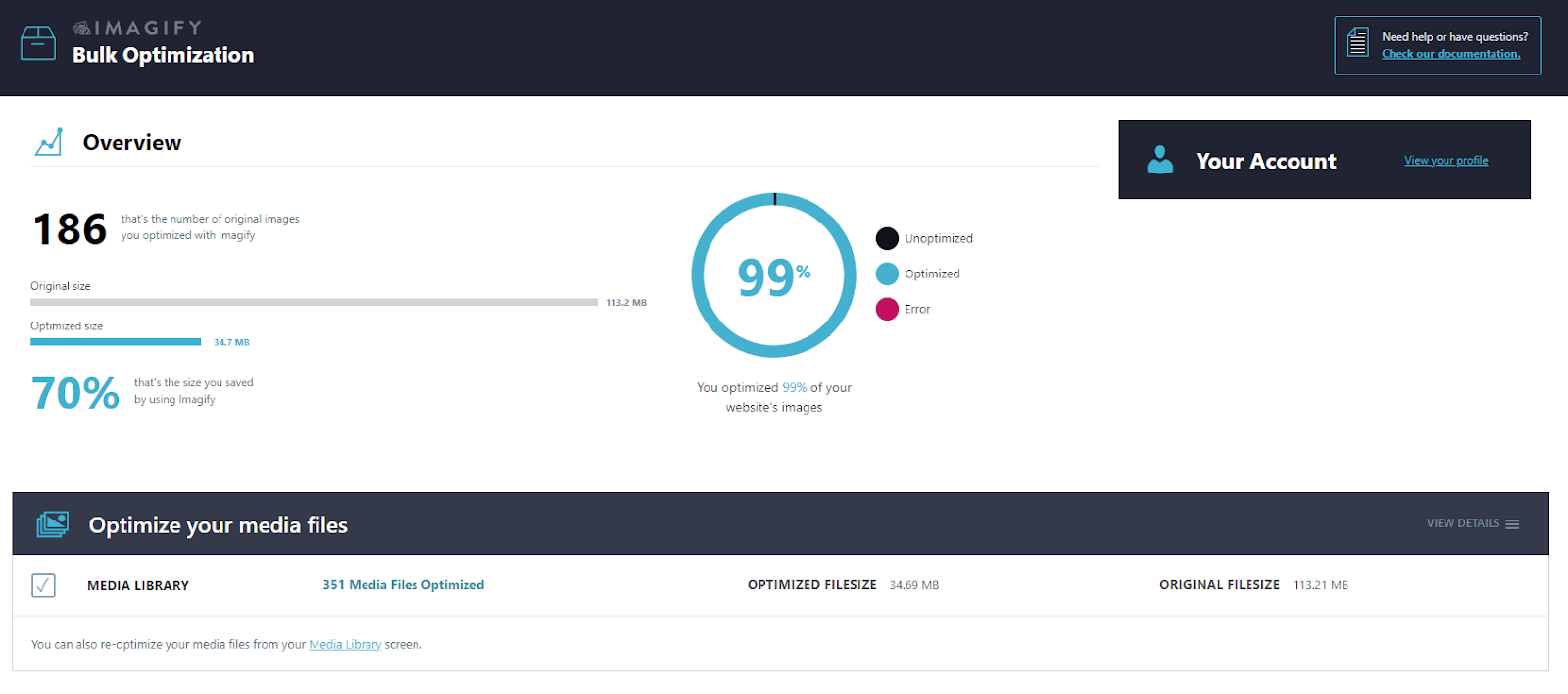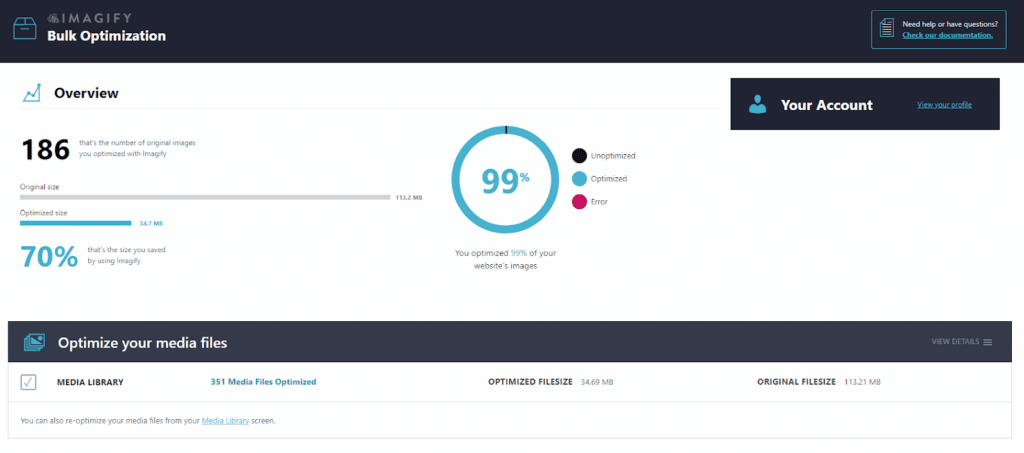 Either way, Imagify is the easiest image optimizer to make your site faster. Thanks to Smart Compression and Asynch Bulk Optimization, you don't need to do anything but wait to get lighter images and speed up your site. Imagify is developed by the same people as WP Rocket – you can bet we know what it takes to get a blazing-fast site!
Give it a try and see how easy image optimization is with Imagify. You can start making your images faster for free!
Take advantage of Async Bulk Optimization today, and let us know what you think in the comments!