If you are looking for a way to make your images load faster without sacrificing quality, you certainly need a WordPress image compression plugin. Image compression significantly reduces the size of large images, improves load times and your overall website speed.
If you're like me, the thought of optimizing every single image on your website sounds like a lot. Thankfully there are WordPress plugins like Imagify that can do this for us. The best part is that we don't need Photoshop or any other editing software!
In this article, we will look at some plugins that will help you compress images and optimize your WordPress site's performance. But before we start the comparison of the best online image compressors, let's highlight the main features that a good compression plugin should have.
How to Choose an Image Compression Plugin
In this section, you'll go over the list of features that you should look for in an image compression plugin. Not all of them are essentials, but having them can help optimize images and make your website load faster.
Let's take a closer look at the must-have features:
Supports the most popular image files formats: you need to make sure that your image compression plugin can work with a number of different file formats. The most popular types are PNG, JPEG as well GIFs, or WebP images.
Converts your images to WebP: WebP is a next-gen format developed by Google. The format can reduce image file size up to 35% smaller than JPEG and PNG images while retaining high quality. Most of the time, our images are uploaded to the WordPress library using PNG or JPEG. A great compression plugin can convert them to WebP automatically to save you time.
Lets you choose the level of compression: the plugin should allow you to try out various levels of compressions to help you reach the perfect balance between file size and quality. If it's your hero image, you want it to be optimized but certainly not blurry. If it's a very small photo of a client's testimonial, then it may be OK to have a lower quality.
A good way to check if the plugin offers different compression levels is to check their "lossy or lossless" feature.
📖 Lossy vs lossless
Lossy: results in greater reductions in file size with a tiny loss in image quality Lossless: slight decreases in image file size with no loss of quality
Note: most of the time, the human eye cannot distinguish between lossless and lossy compression. We also have a dedicated blog post that explains the difference between lossy and lossless.
Optimizes images on its servers: choose a plugin that uses its servers – not yours – to optimize your image that will help you save in bandwidth and storage.
Resizes your images on the fly: make sure you can specify a height, a width to respect, or more simply, a percentage when you upload them to WordPress.

Bulk optimization to compress multiple images: if you have an e-commerce site with thousands of pictures, it will be a huge hassle to compress all those images by hand. Verify that the plugin lets you compress multiple images at once.
Has a lean interface: you want a plugin that provides a well-designed interface to avoid getting lost in thousands of options.
Offers backup options: if you don't like the quality of an optimized image, you may want to revert it to its original state. Check that the image compression plugin offers unlimited backups.

Bonus: make sure that your compressed (and original) images are not deleted if you deactivate the plugin.
Now that we know the key features to look for let's see which plugins are best for image compression.
The Top 6 Image Compression Plugins
Here are the six WordPress image optimizer plugins I'll test and compare in this section:
To help you choose the best image compression plugin for your WordPress site, I tested the six popular tools with two images (PNG and JPEG) as shown below:
| | |
| --- | --- |
| PNG image (481 KB) | JPEG image (489 KB) |
| | |

First of all, I'll share an overview of the performance, meaning how much each plugin can compress our images. Then for each plugin, I'll present the following elements:
Key features
Look-and-feel of the interface
Pricing
Performance overview #1: testing each WordPress image optimizer with our PNG file (481 KB).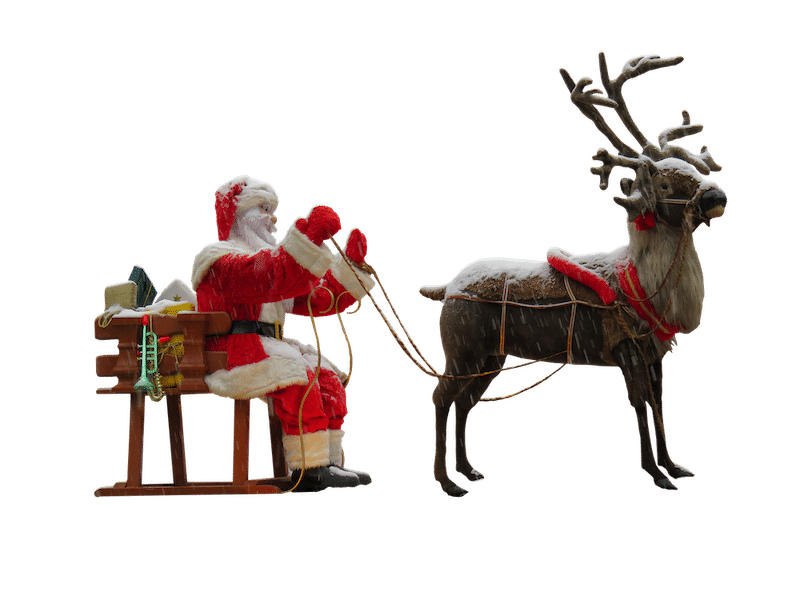 WORDPRESS PLUGIN
ORIGINAL SIZE
COMPRESSED SIZE
OPTIMIZATION
(%)
METHOD OF COMPRESSION
Imagify
481 KB
120 KB
75 % (best score)
Lossy
Optimole
481 KB
278 KB
41.7 %
Lossless
Compress JPEG & PNG
481 KB
206 KB
57 %
Lossy
EWWW
481 KB
346 KB
28 %
Lossless
ShortPixel
481 KB
130 KB
73 %
Lossy
Resmush.it
481 KB
390 KB
19 %
Lossless
Performance overview #2: testing each WordPress image optimizer with our JPEG file.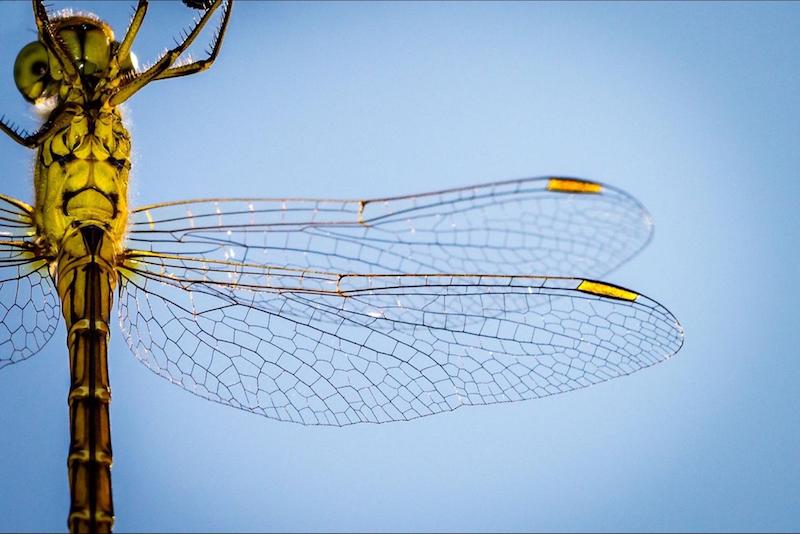 WORDPRESS PLUGIN
ORIGINAL SIZE
COMPRESSED SIZE
OPTIMIZATION
(%)
METHOD OF COMPRESSION
Imagify
489 KB
212 KB
56 % (2nd best score)
Lossy
Optimole
489 KB
342 KB
29.4 %
Lossy & lossless
Compress JPEG & PNG
489 KB
245 KB
49 %
Lossy
EWWW
489 KB
467 KB
25 %
Lossless
ShortPixel
489 KB
197 KB
59 %
Lossy
reSmush.it
489 KB
414 KB
14 %
Lossless
With 500 000+ active installations, Imagify is a powerful image compression plugin for WordPress, allowing you to optimize your images in bulk and convert them to WebP. The visual comparison between the three compression levels (normal, ultra, and aggressive) is also very handy for choosing your optimization method and boosting your loading time.
Key features
Support PNG, JPG, GIF, PDF, and WebP
Faster compression for your images (since July 2021)
Ability to convert images to WebP format
Three levels of compression: Normal (lossless compression), Aggressive (lossy compression), Ultra (even more aggressive lossy compression for maximum file savings)
Resizing and optimization can be done automatically on upload or during the optimization process on existing images
Imagify uses its own servers (not yours) to optimize your photos
Backup and restore options are available
Optimized Images are saved even if you deactivate the plugin
Look-and-feel of the interface
It has one of the best-looking settings pages on this list! You can find the General Settings on the homepage. You can choose to optimize images automatically on upload and also to back up the original images.
Imagify will automatically optimize your images thanks to the Smart Compression level, which will find the best balance between performance and image quality.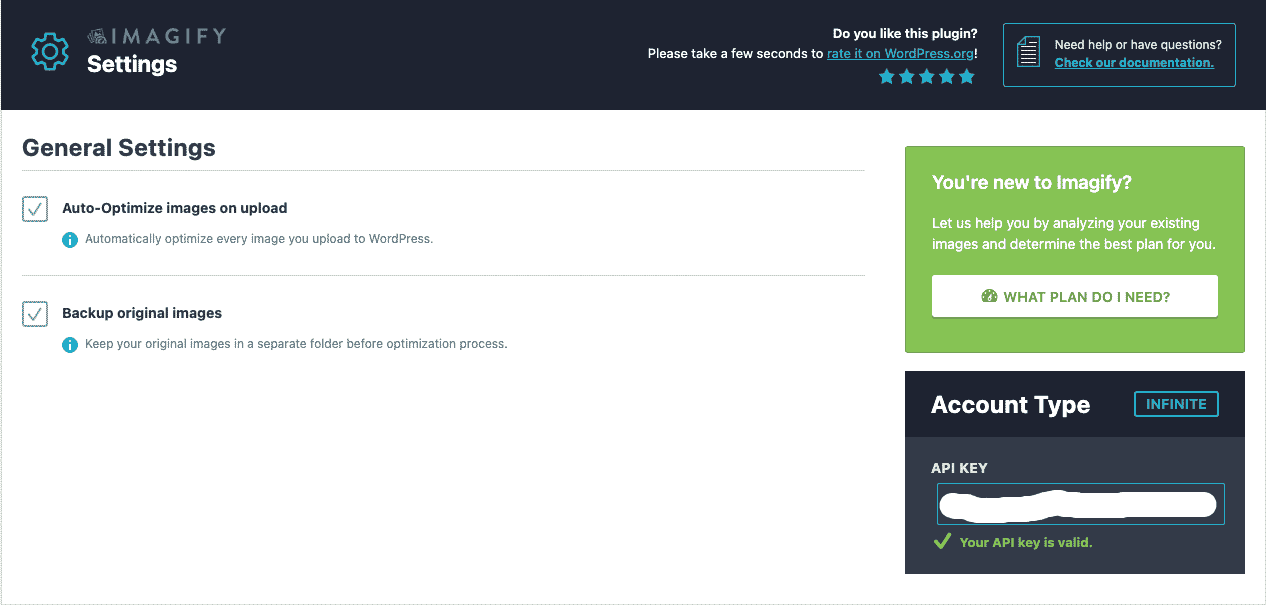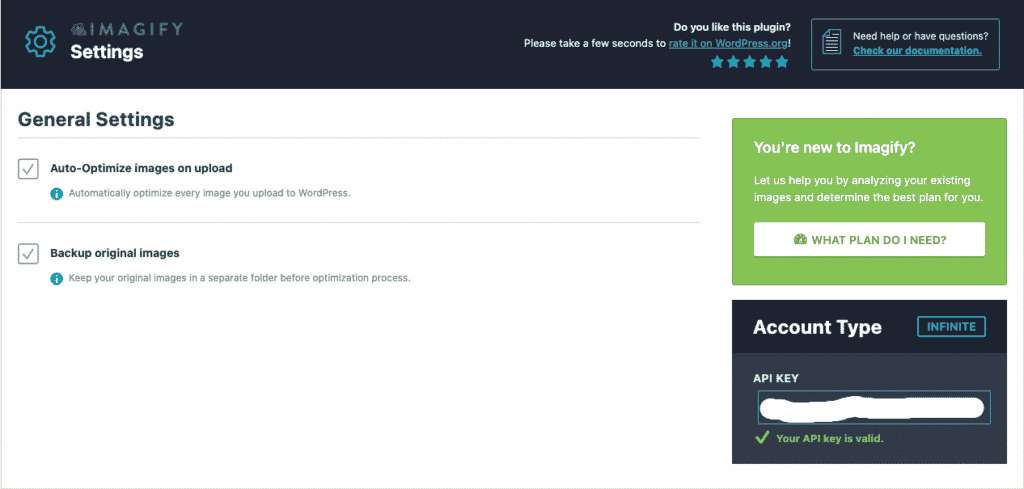 The WebP conversion is available in one click, which is convenient if you have multiple images on your WordPress site.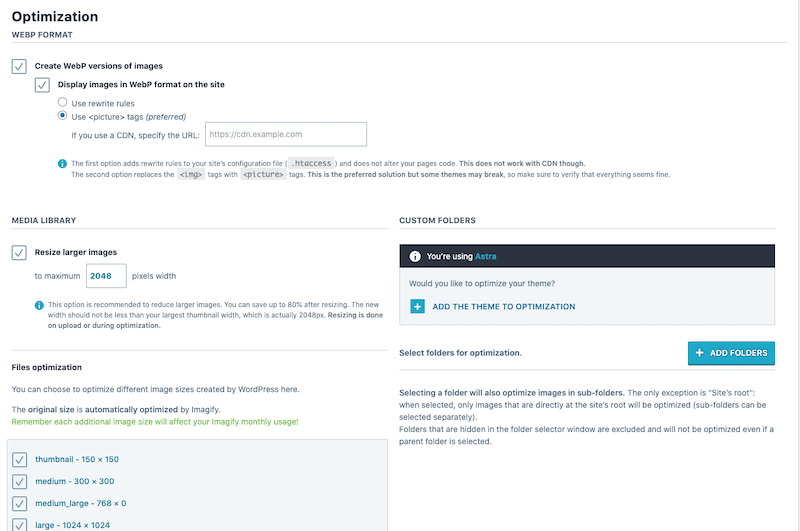 Finally, you'll find one large button to optimize all your images in bulk. This "IMAGIFY'EM ALL" feature is a real-time saver.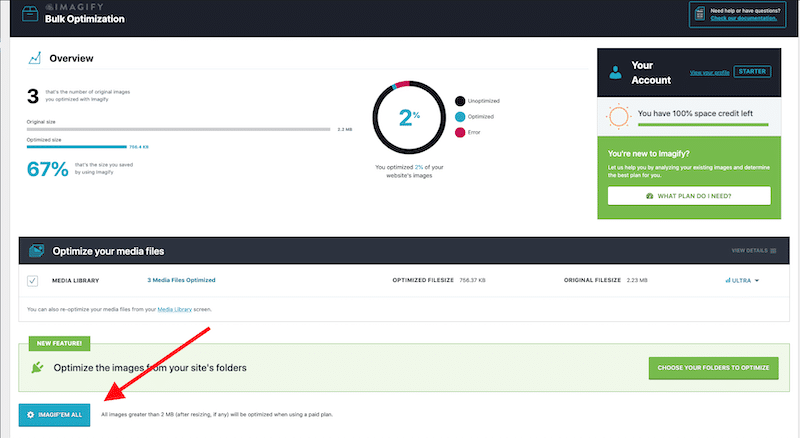 Pricing
The free version will let you resize and compress 20 MB worth of images per month. Then, the premium pricing is the following:
$4.99 per month for 500 GB (around 5000 images)
$9.99 per month for unlimited usage.
Important: the free version of Imagify gives you access to all the features. The premium version allows you to optimize more images. 
Optimole is a smart optimization WordPress plugin as it resizes your image to fit perfectly on your visitors' devices, including tablets and mobile. Upon activation of the plugin, your visitors will view the optimized image for their device automatically served from the Optimole Cloud Service on the fly.
Key features
Supports all image types
Supports WebP images
Serves images from a global CDN for free
Optimizes and renders the image size based on the visitor's actual device (that's excellent for mobiles)
Serves lower quality images for users on slow connections
Advanced cropping
Lazy load script
Convert GIF to MP4 automatically
Look-and-feel of the interface
A modern interface with no clutter. You'll find only two tabs, Dashboard and Settings: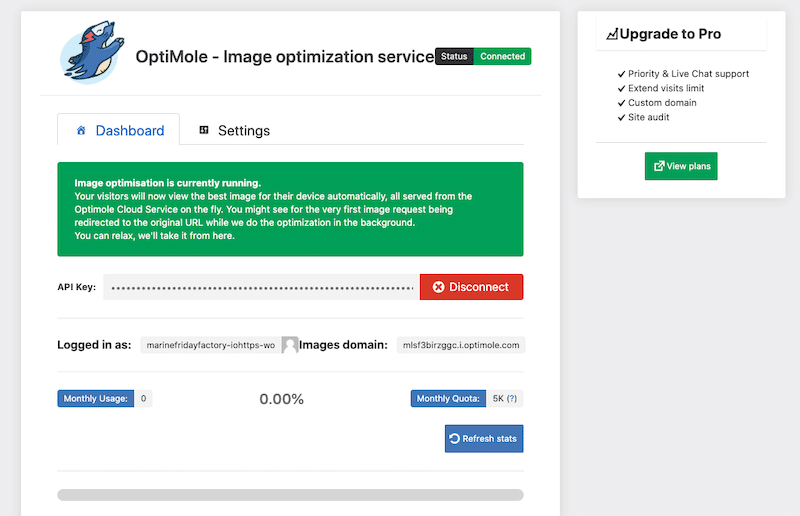 The image optimization starts automatically, and you can play with a few settings such as lazy loading, serving CSS and JS through Optimole, and controlling the image quality with a ruler from low to high: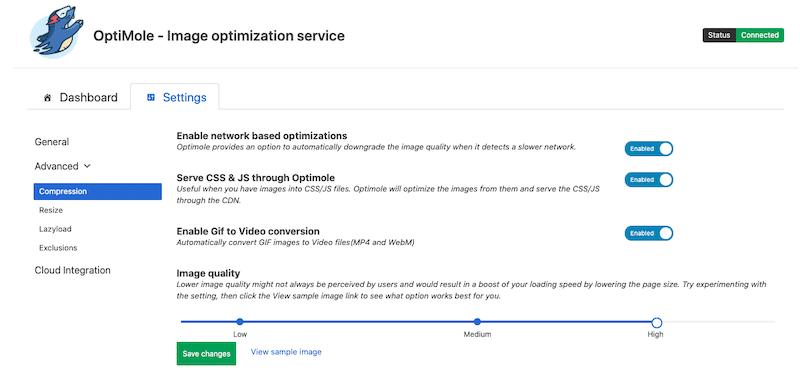 Pricing:
The number of images you can optimize is unlimited. They care only about the number of visits you have per month (free until 5K monthly visitors). Three other plans are sold, starting at $24 per month for 25,000 unique visits each month.
If you upgrade to pro, you get a full site audit, extend the number of visits, and access priority support.
This is another smart image optimization plugin that supports JPEG, PNG, and WebP images. The plugin automatically optimizes all your images by integrating with the popular image compression services TinyJPG and TinyPNG.
Key features
Bulk optimization of your existing media library
Automatically resize large image uploads by setting a maximum width and/or height
Individual optimization possible
Support PNG and JPEG formats
No file size limits
Images are backed-up
Display JPEG images more quickly with progressive JPEG encoding
Look and feel of the interface:
The interface is very simple without any extras. You'll find a settings page with a set of questions: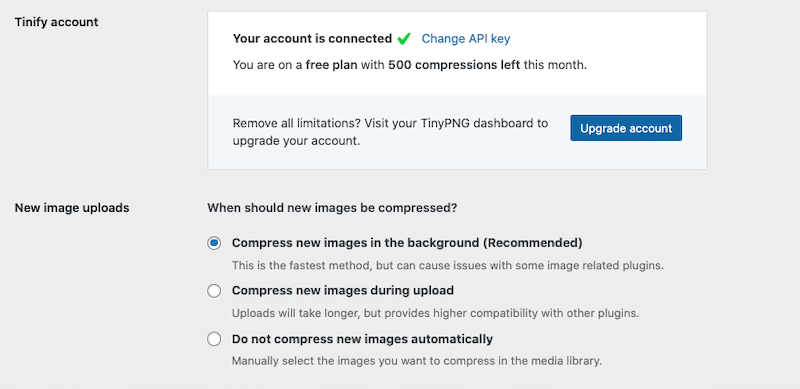 In the bulk optimization section, you'll find a summary of your total savings and which images still need to be compressed:

Pricing:
You can optimize roughly 100 images each month for free. Then, it's 25$ per user per year. Going pro comes with many benefits: you can drag and drop more than 20 images at once, upgrade 5 MB to 75 MB your file size limit, and get access to the statistics using the Analyzer tool.
Almost 1M sites are using it to optimize their images without losing their quality. You can choose to optimize individually or bulk with lossless compression.
Key features
Intelligent conversion options to get the right image format for the job JPG, PNG, GIF, or WebP
WebP conversion
Unlimited files size
Bulk optimization
Smooth Handling with pixel-perfect optimization
Free image backups store your original images (but be careful, that's only for 30 days)
Optimize images using tools on your server in the free plan (This is great for privacy matters, but for performance, this could cause your server to slow down during the bulk optimization)
Look and feel of the interface:
It looks a little bit oldish, but the wizard upon activation is interesting as it lets me apply lazy loading and convert all my images to WebP: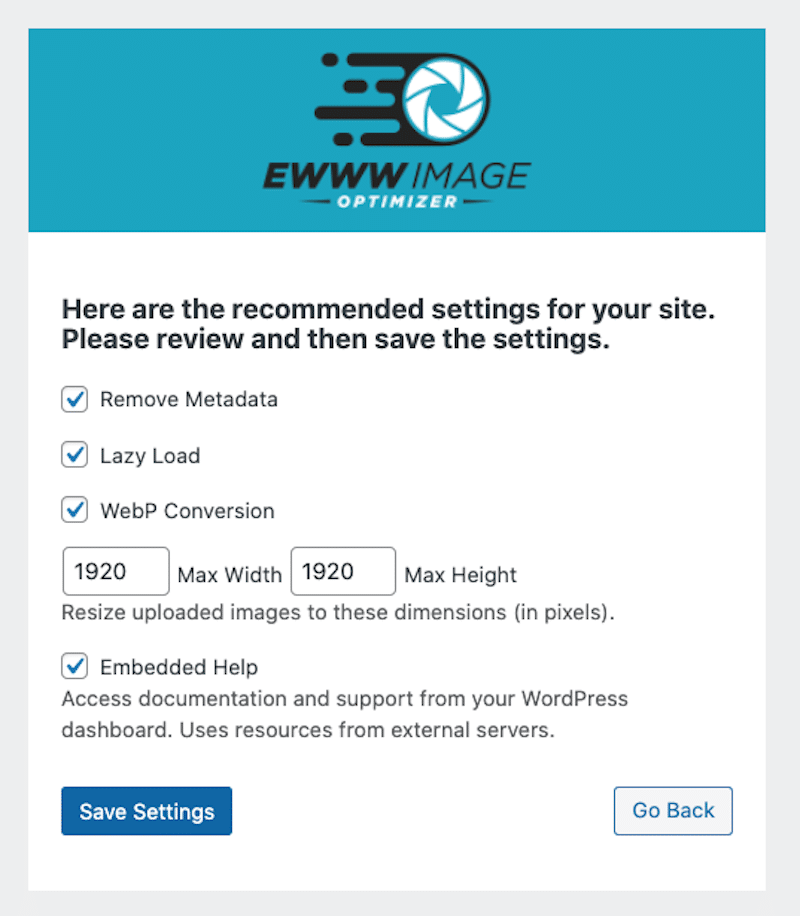 Then, the settings section tells you the optimization score, lets you add the missing dimension to images, and converts your media to WebP: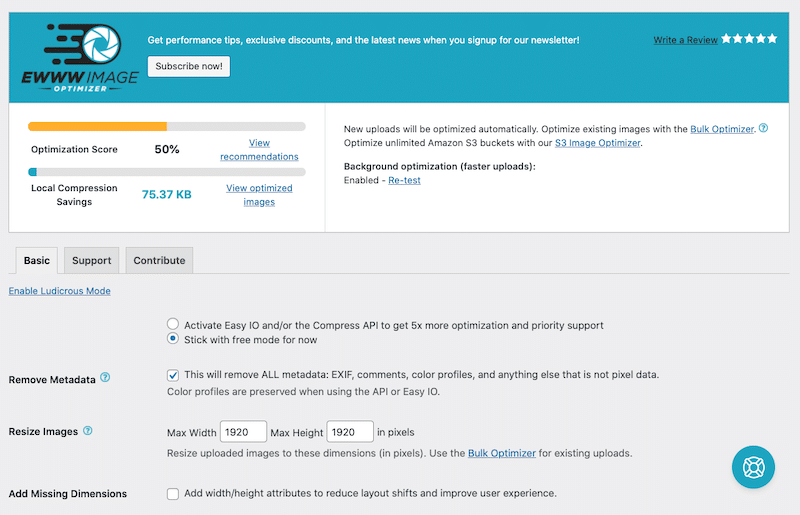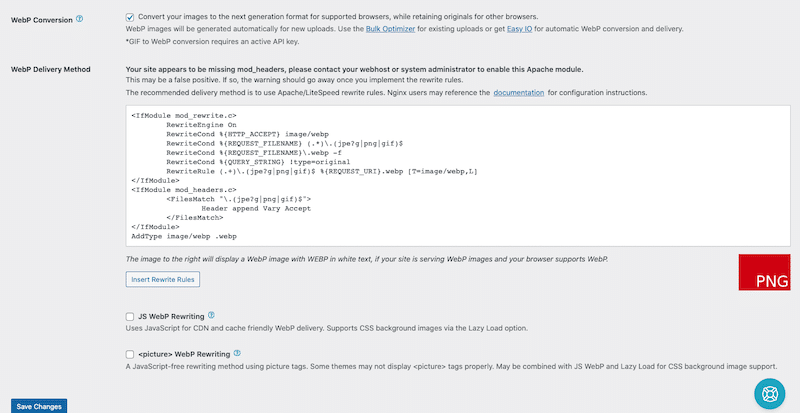 Pricing
The main EWWW plugin is free and available on the WordPress repository. The premium version starts at 7$/month and goes up to 25$/month. It gives access to more features like a CDN, more bandwidth, speed audits, and the use of their API.
ShortPixel optimizes images automatically while guarding the quality of your images. It uses minimal resources and can compress any images on your website, even the images that aren't listed in the Media Library.
Key features
Automatically convert PNG to JPG if that will result in smaller images
Compatible with any gallery, slider, or eCommerce plugin
Compress JPG (and its variations JPEG, JPEG 2000, JPEG XR), PNG, GIF images, and also PDF documents
Option to convert any JPEG, PNG or GIF to WebP and AVIF
Automatically scale down large images
Bulk optimize all the existing images
Look-and-feel of the interface
Shortpixel dashboard is similar to Imagify's but with extra tabs for advanced features. You can also make a few tests before choosing the compression type: lossy, glossy, and lossless.

Pricing
The plugin is free for around 100 images/month, but you need to buy more credits to optimize more photos.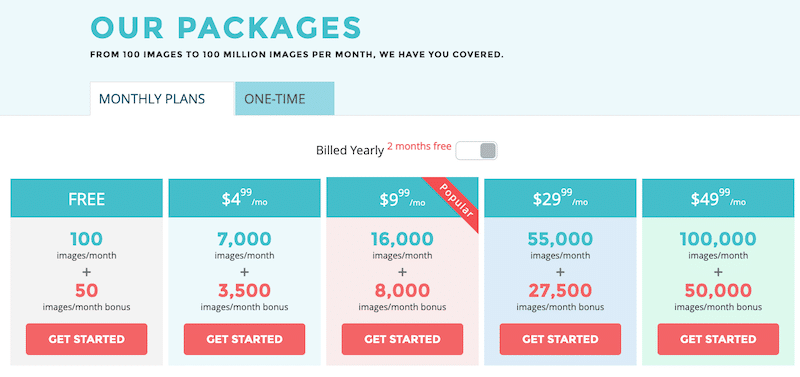 reSmush.it Image Optimizer allows the use of free Image optimization based on reSmush.it API (up to 5MB). You can also change the optimization level of your images from 1 to 100 or exclude some pictures from the optimization process if desired.
Key features
Formats supported: PNG, JPG, GIF, BMP, and TIFF pictures
"Optimize on upload" feature available
Bulk optimization in one click
Easily exclude an asset from the optimizer
Backup for original pictures
WebP is not available yet (but it's coming soon)
Look and feel of the interface
The interface is not the best, but at least we don't get lost in endless customizations. You can set the image quality from 1 to 100, choose to optimize on upload, enable statistics and optimize all your pictures in one click: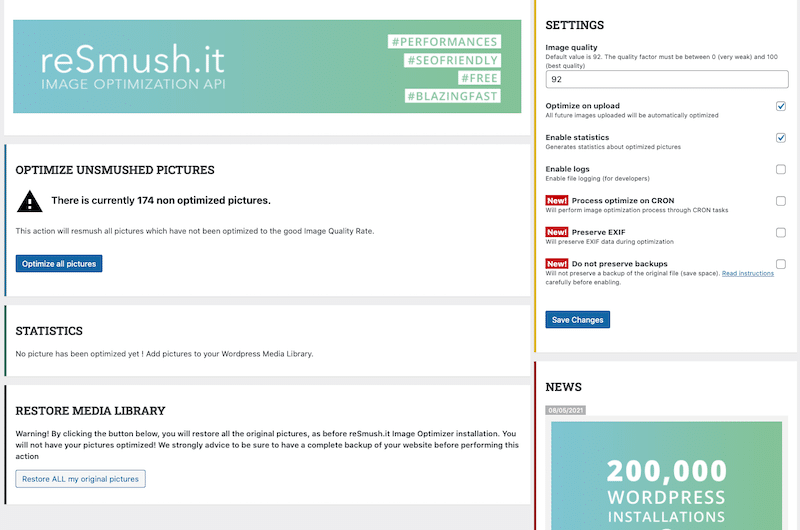 Pricing
It's entirely free.
Now that we have gone over the main WordPress plugins you can use to optimize your images, let's focus on Imagify to see how our overall performance will be impacted.
The Impact of Imagify on Performance
Imagify compresses your images efficiently, which results in speeding up your WordPress site.
How has Imagify been performing? Imagify got the #1st place in the PNG compression (with 75% saved) and the 2nd spot in the JPEG optimization process (56% saved).

The most important thing is that we have reduced our image size without losing the quality.
I also ran an audit on Google PageSpeed Insights before and after using Imagify. The results are interesting if we look at our overall score and the audit section:
| | |
| --- | --- |
| Without Imagify (77/100) | With Imagify: a faster website with optimized images (86/100) |
| | |
| | |
| --- | --- |
| Without Imagify – Red audits | With Imagify – Passed audits |
| Red audit: | Passed audit: |
Wrapping Up
Compressing images on your WordPress site is essential to making your photos load faster and improve your overall performance. Thankfully, you have powerful WordPress plugins like Imagify that can help you to run the optimization automatically. Imagify helped us address Google recommendations on PSI, namely, "serve images in next-gen formats" (thanks to its WebP conversion feature), "efficiently encode images", "properly size images", and also improved our performance metrics.
Try Imagify for free and tell us how the image compression is going for you!