Are you looking for the top image optimizer plugins for WordPress? Look no further away. We have listed the best tools available on the market.
Unoptimized images are often responsible for slowing down a website. If you run a performance audit through Lighthouse, you may get one of these image-related issues:

If that's the case, you probably need an image optimizer plugin!
We've listed the must-have features to help you choose the best image optimizer plugin for your next project.
Let's dive in!
What Image Optimization Means to Performance
Optimizing an image for performance means delivering high-quality images in the right dimension, format, and resolution while keeping the file size as small as possible. You can optimize images thanks to several mechanisms such as compression, resizing, caching, conversion to a next-gen format, or even lazy loading.
Here's an example of a compressed image. While the size is smaller, the quality looks the same to the human eye. That's because when optimizing an image, you reduce its size without compromising on the quality.
| | |
| --- | --- |
| Original JPG | Compressed JPEG |
| 813 KB | 309 KB Impact on the quality: None |
| | |
Unoptimized images make your site slower and affect key performance metrics, such as your Core Web Vitals. When an image is the Largest Contentful Paint element, efficiently optimizing that image is crucial to maintain a good LCP score. Largest Contentful Paint measures the perceived speed of an entire website, and I guess you want to make a good impression on your visitors. Always opt for an image optimizer WordPress plugin to help you in your optimization journey.
How to Choose the Right Image Optimizer Plugin
We've put together an image optimization checklist you can follow all the images of your WordPress site.
The 14 Must-have Features For An Image Optimizer Plugin
Let's take a deeper look at the must-have features to search for when choosing an image optimizer plugin.
Supports the most popular image file formats: PNG, JPEG, GIFs, or WebP images.
Can convert your images to WebP. This next-gen format developed by Google can reduce image file size to 35% smaller than JPEG and PNG images without impacting the quality.
Applies Lazy-loading on your images and video to ensure that only the above-the-fold content loads first.
Has a smart compression process that flags images that become too blurred after optimization.
Lets you optimize images efficiently as recommended by Lighthouse so you can see results on your page speed and overall performance.
Offers several levels of compression – to help you reach the perfect balance between file size and quality. How to check the level of compression in a plugin? They should have "lossy or lossless" features.
Preserves the image quality – compression should not mean a blurred image! Choose a plugin that does balance quality and performance: an automatic, intuitive, and smart compression.
Resizes your images on-the-fly: make sure you can limit a certain height and width, or at least a percentage when uploading them to the WordPress library.
Offers Bulk optimization to compress multiple images: if you have an e-commerce site with thousands of pictures, it will be a hassle to compress all those images by hand. Verify that the plugin lets you compress multiple images at once.
Optimizes images on its servers: choose a plugin that uses its servers, not yours. This will save you bandwidth and storage.
Has an intuitive and fast interface: you want an easy-to-use plugin that provides clear optimization options and does the whole process in no time.
Removes unnecessary metadata – e.g., Exif data that may be present.
Keeps a backup of your original images -Ensure that your compressed (and original) images are not deleted after plugin deactivation.
Is compatible with any CDNs and you can distribute your images even faster to users worldwide.
Now that you know the best features an image optimizer plugin should have, let's look at the best tools you can choose.
The Top 5 Image Optimizer Plugins
The best five image optimizer plugins we listed are:
1. Imagify: The Smart and Intuitive Image Optimizer Plugin
With more than 600 000 active installations, it is one of the most popular image optimization plugins on the market!
Key Features:
What makes Imagify stand out from the other image optimizer plugins, it's the new Smart Compression feature! It optimizes your images at their best, so you don't need to worry about which compression level is right for your needs.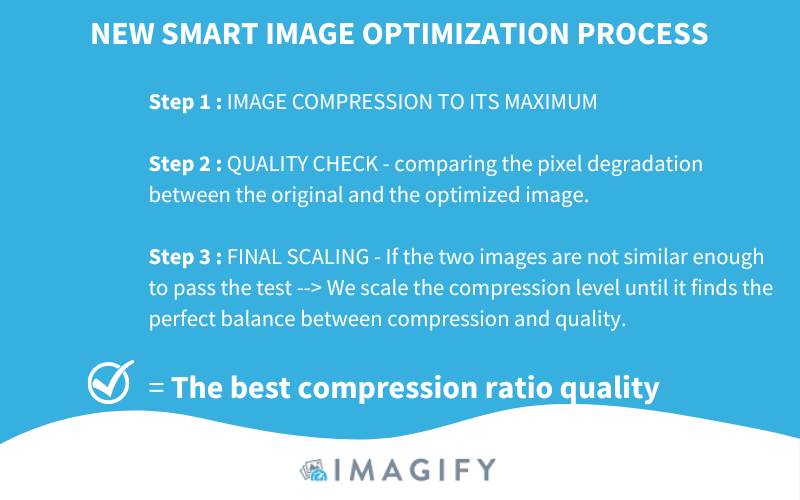 From the WordPress library, you can see that the WebP is automatically generated: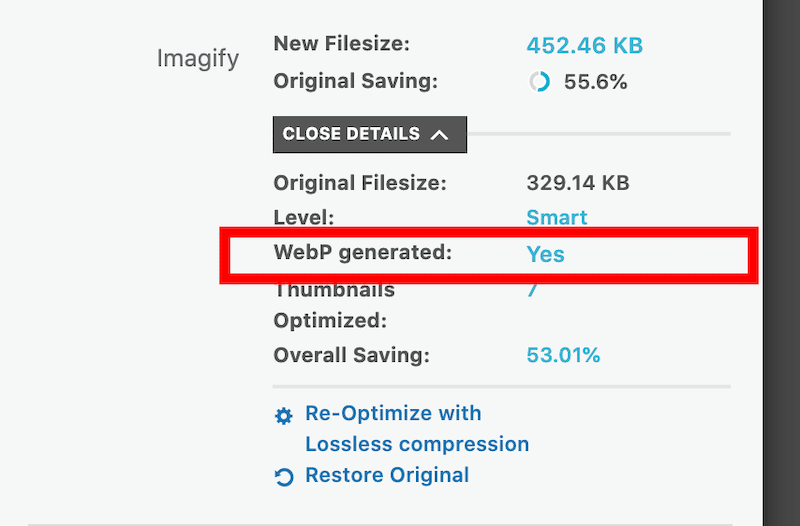 Intuitive and to-the-point interface: the settings are straightforward, and there is one final button to click on, and the job is done!
Support many image formats such as PNG, JPG, GIF, PDF, and WebP.
Optimization and resizing are done automatically on upload or existing images you choose.
Preserve the image quality thanks to the Smart Compression.
Single and Bulk Optimization available to compress several images at once or choose manually which images need optimization in priority.
Possibility to choose which thumbnail sizes to optimize.
Back up the original image if needed (your original files are not deleted).
Optimization is done using Imagify's servers, not yours.
Web App available if you are not a WordPress user (free accounts have a file size upload limit of 2MB.)
Pricing:
Free for 20MB worth of data per month, the plan starts at $4.99/month for 500MB or $9.99/month for unlimited optimizations. Check the full pricing here.
Optimole comes with full automation and a range of optimization features with a cloud-based system. It delivers images in smaller sizes, without compromising on quality, on every type of device.
Key Features:
Minimalistic and clear interface with two tabs: dashboard and settings.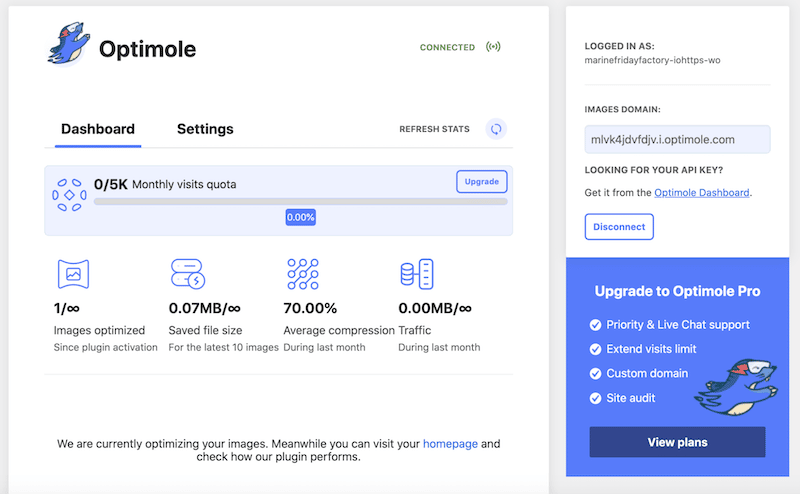 Regular settings and advanced settings: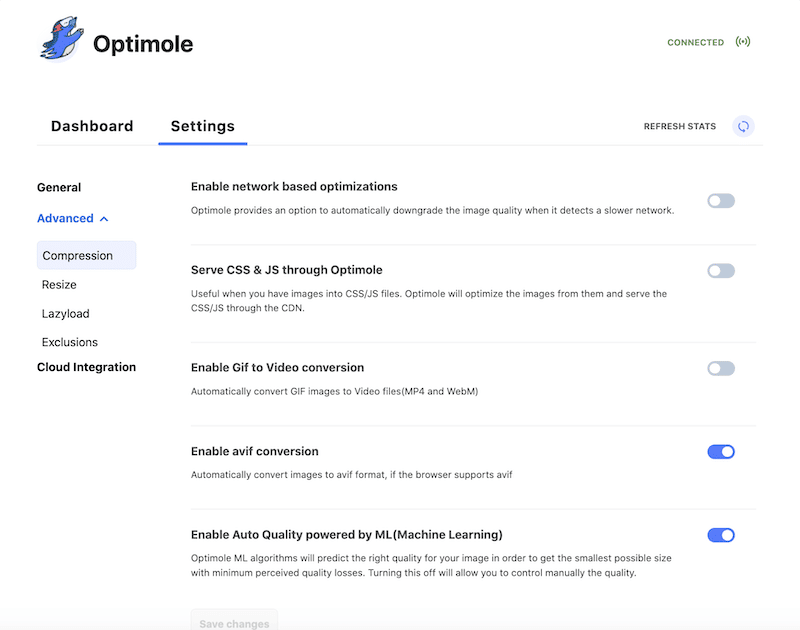 WebP and AVIF conversion: by default, Optimole serves images in WebP format for every visitor that supports this format.
Lazy-loading: Optimole applies lazy-loading using the <link rel="preload"> attribute on the images of your choice.
Machine learning compression: the algorithms provide the lossy or lossless optimization for the best-looking image at the smallest size
Responsive settings: lets you pick the right image size for the visitor's browser and viewport.
Cloud Library support: offload your website images directly to Optimole Cloud (which means you save storage space on your server)
Watermark: Optimole applies a watermark on all your pictures if that's something you need for your business.
CDN distribution: serves images from a global CDN for free
Pricing:
With the basic plan, you will be able to optimize an unmetered number of images for up to 5K monthly visits, then you need to upgrade your plan, starting from €19.08/month.
ShortPixel is an easy-to-use image optimization plugin that can compress all your images and PDF documents with a single click.
Key features:
Simple interface that offers quick buttons to determine the compression type, backups, and resize large images.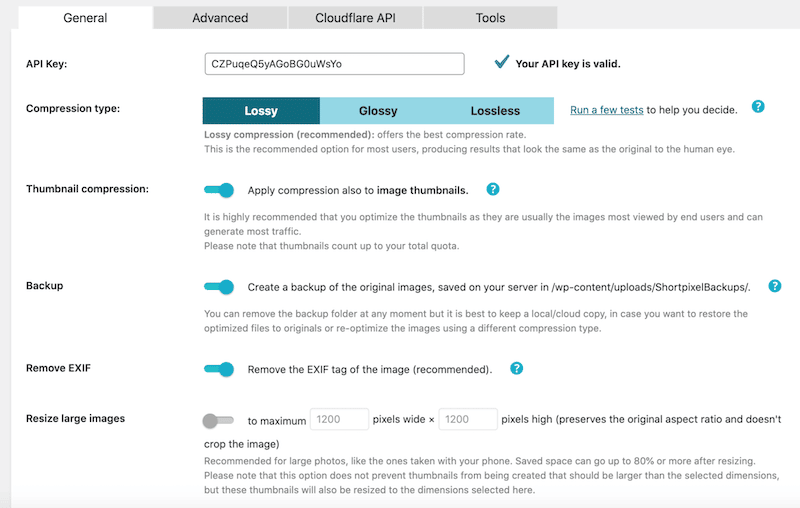 An "advanced" tab provides all the next-gen settings you need to convert images to WebP or AVIF.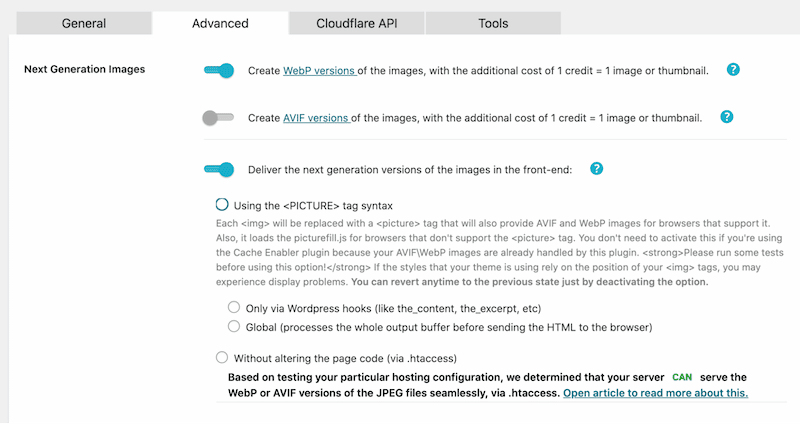 Bulk compression with a very handy wizard in 4 steps. 'Bulk' optimize all the existing images in Media Library and in third-party plugins like NextGen Gallery.
Support all types of images (PNG, JPEG, etc.).
Option to deactivate auto-optimizing images on upload.
No credits are used for the images that are optimized less than 5%.
Option to scale images down, with 2 different options, which are handy for large images.
Cloudflare integration to distribute images faster worldwide (you need to have your CDN).
Pricing:
ShortPixel provides 100 free image credits every month. Monthly plans or cash credits are available according to what fits you best. The first plan starts at $3.99 for 7,000 image credits.
With EWWW IO, you can optimize all your existing images from any plugin! EWWW IO takes care of new image uploads automatically. You don't need to do anything else.
Key features:
An intuitive wizard that helps you set up the plugin and choose the optimization options you need for your website: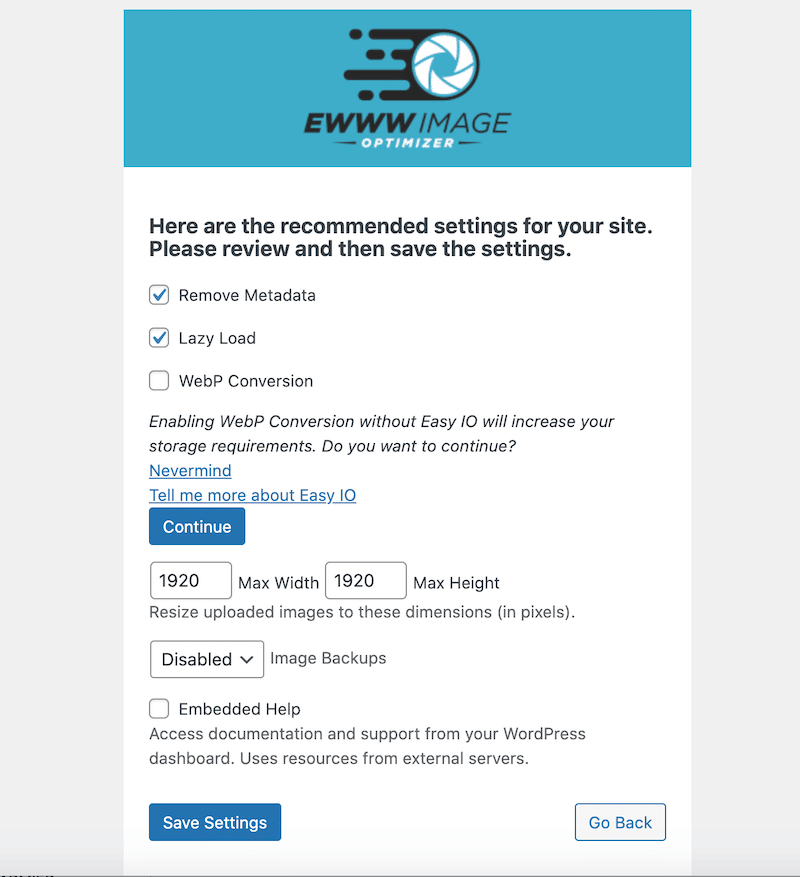 Convert images to WebP.
No Speed Limits and unlimited file size.
Apply lazy-loading to boost your site's performance and load above-the-fold images in priority.
Automatic resizing on upload to avoid large images from being uploaded to the WordPress library.
Add missing dimension (width/height).
Responsive options: detects the correct image size within the responsive markup (srcset).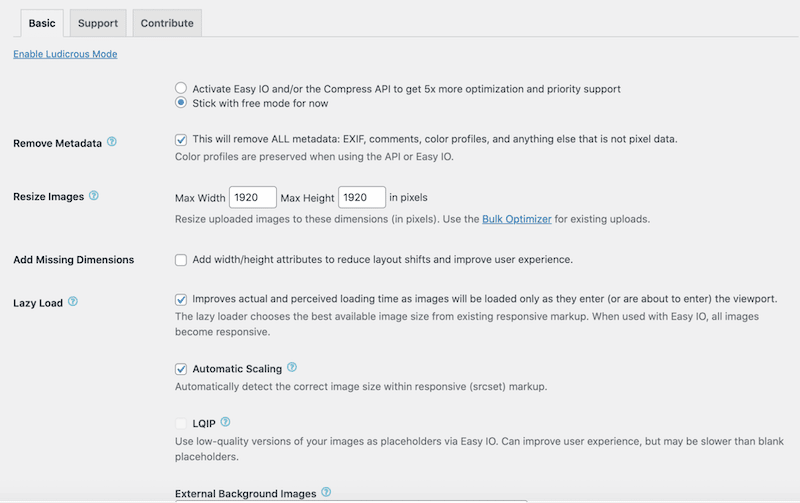 Pricing:
The core plugin is free and offers a very good compression level. However, in the paid services, the compression gets better. Pricing start at $7/month for one site.
This plugin automatically optimizes images by integrating with the two popular image compression services TinyJPG and TinyPNG.
Key features:
Basic interface with essential settings – there are not so many options but the plugin sticks to the basics and does the job with a clean setting page. It took me only a few seconds to activate the settings of my choice and run the automated optimization process: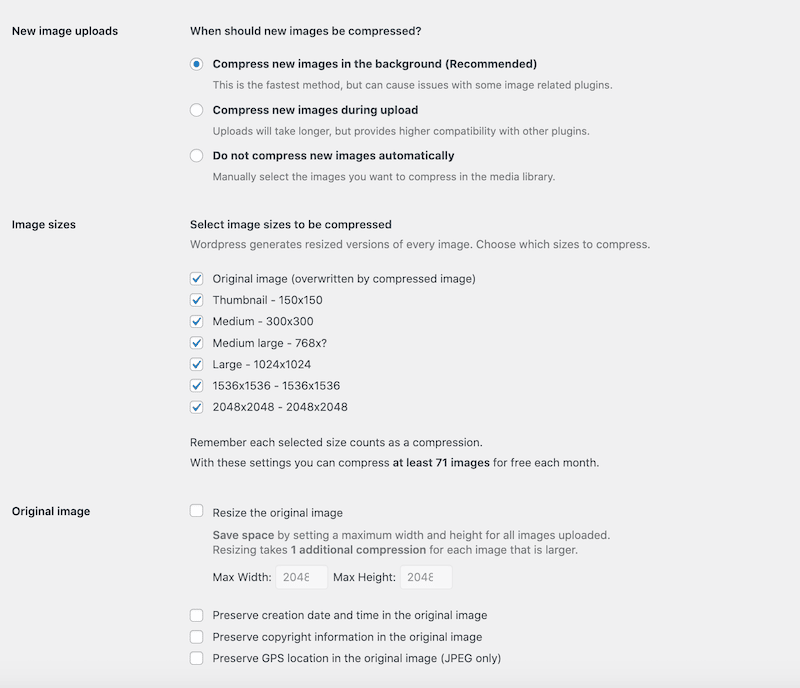 Compression for the new images in the background and/or during upload.
Decide if you want to select the images in the WordPress library manually.
Easy bulk optimization of your existing media library.
WebP optimisation.
Choose which image size you want to compress.
Set a maximum width and height for each uploaded image.
Pricing:
With a standard WordPress installation, you can do roughly 500 compressions each month for free. You'll need to upgrade if you need to optimize more images.
The Impact of Imagify on Performance
After listing the best image optimizer plugins, let's see Imagify in action. Imagify boosts your website speed site literally in a couple of clicks. Thanks to its new Smart Compression, it's one of the best image compression plugins that reduce the file size of your images without compromising on quality.
I ran a case study showing how image optimization boosts performance and improves Lighthouse's audits. I built a web page with unoptimized JPG pictures and compared my results before and after running Imagify.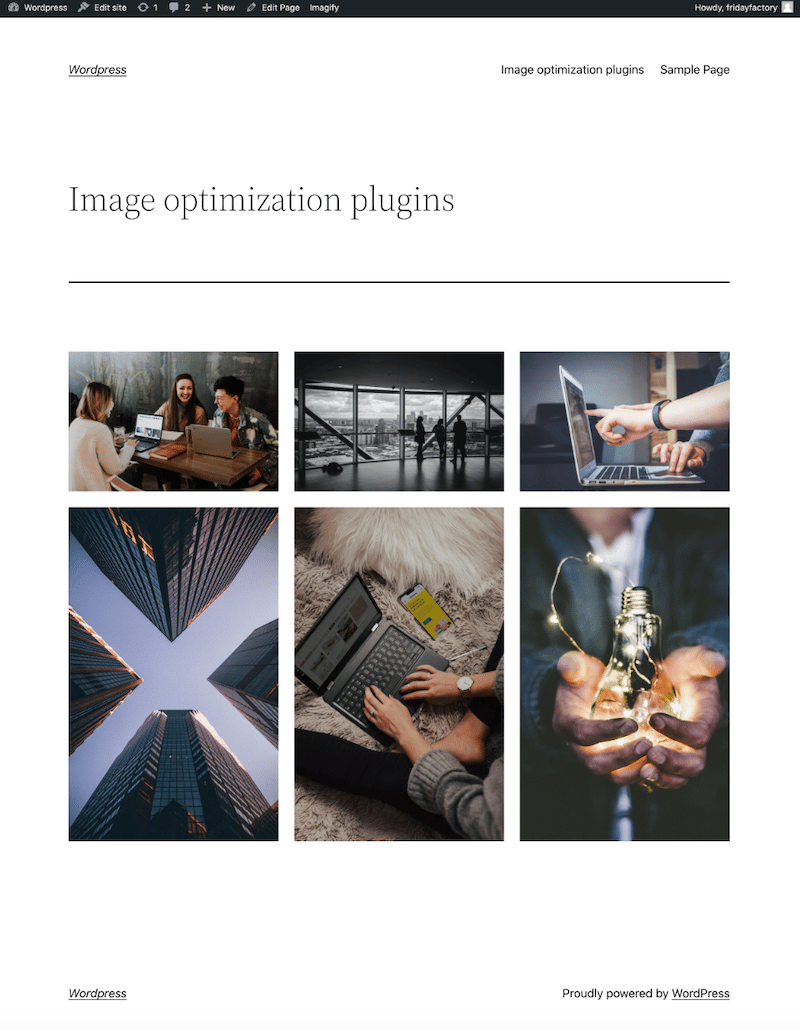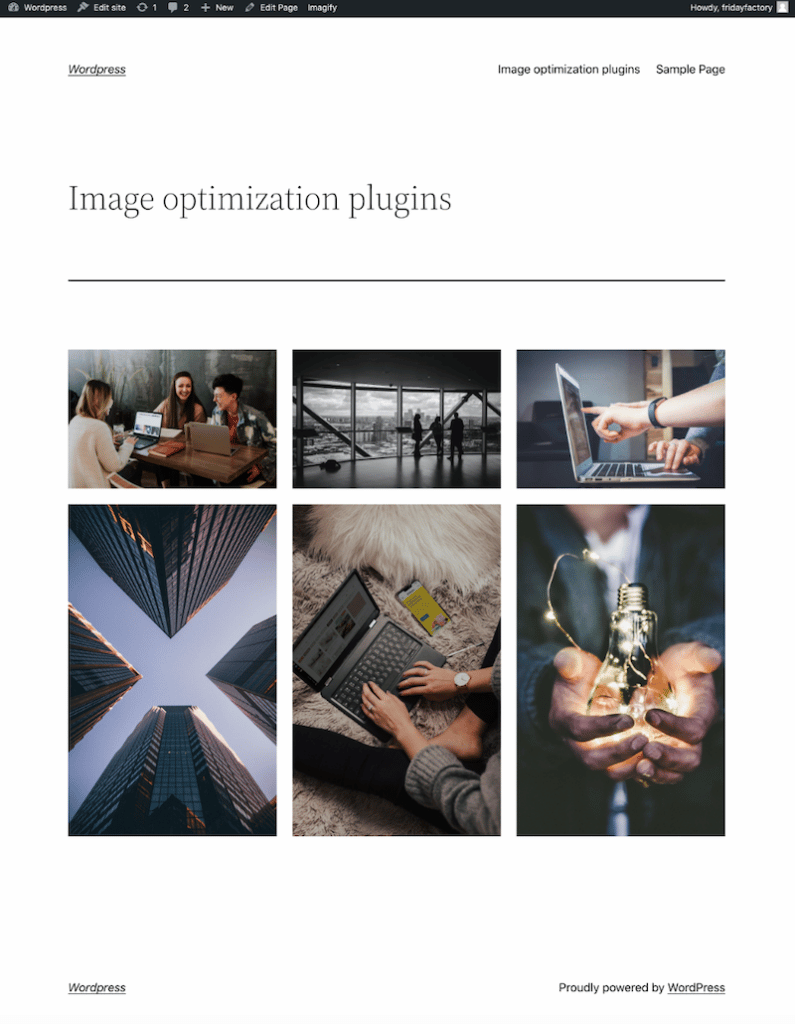 Let's disclose the results on mobile!
No Imagify – Performance report and highlights:
Without Imagify, Lighthouse flags all my images as unoptimized with several areas of improvement:

The performance itself is not so good either. I'm getting a 74/100, mostly caused by a lack of image optimization. The Largest Contentful Paint metric is in the red with a 7.5 s score, and the First Contentful Paint is orange.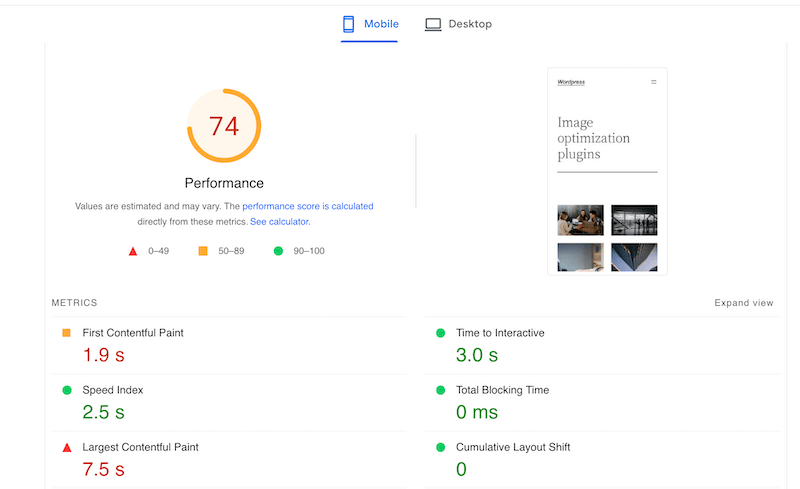 With Imagify – Performance report and highlights:
The performance score went from 74/100 to almost 90/100!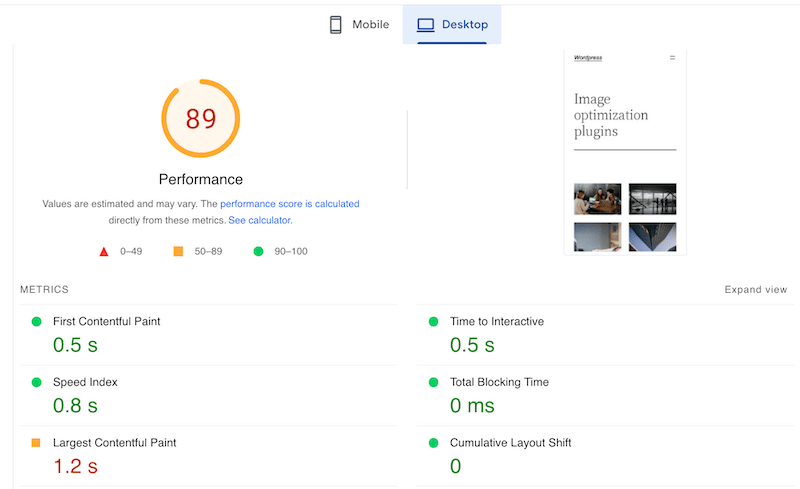 My FCP is now in the green, and my LCP is right on edge between orange and green.
Imagify also fixed two PSI warnings: "Serve images in next-gen formats" and "Efficiently encode image".


All my images are now optimized!
💡 Pro-tip: Imagify cannot address all the performance issues flagged by PageSpeed Insights. You may also need WP Rocket, one of the best caching plugins, that can help you – among other things – delay and remove unused JS or CSS.
Wrapping Up
As you can see, Imagify helped address two key image-related issues flagged by Lighthouse. Our plugin reduces image file sizes without losing quality, makes your website load faster, and makes you save bandwidth.
Why don't you give it a try? It's free for up to 20 MB of images a month, and the only risk you take is to delight your visitors by serving them faster images!